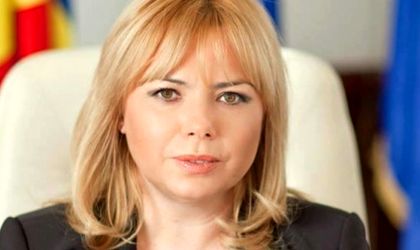 Romania is in a very good macroeconomic situation, with an economic growth estimated at 4 percent annually on the long term, but there are risks, both externally and internally, such as the domestic demand that exceeds supply, says the minister of Public Finance, Anca Dragu.
"There were important reforms that took place this year and constitute the basis for a solid economic growth in the future. The forecasts show that this growth is around 4 percent or even over 4 percent on the medium term. In the case of investments, we estimate a growth of 7 percent as an annual average, while the exports up to 2020 will increase with an annual average of 9 percent," said Dragu, as quoted by Agerpres newswire.
Join the discussions about Romania's economic outlook and strategy for the future at the Foreign Investors Summit 2016 – Where Romania means business – November 1-3, Bucharest.
"There are risks, both externally and internally and we're not ignoring them. We see a moderate risk related to Brexit and also a moderate risk related to the economic growth more reduced then the anticipated one in case of some commercial partners of Romania, but also risks related to the closeness of Romania to the conflict areas," added Dragu, mentioning that reforms need to be implemented locally so as to support future growth.
She also reminded of the performances registered in the economy this year, with economic growth at 5.2 percent in the first semester, the highest one from EU, the increase in investments by 7.4 percent in the same period, foreign direct investments of EUR 2.7 billion in the first eight months of the year and the increase of 6.6 percent of exports by the EU members.
Georgiana Bendre