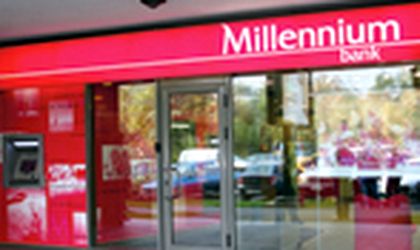 Portuguese Bank Millennium bcp posted a consolidated net income of EUR 88 million in the first half of 2011 and appreciates in a report that the economic cycle in Romania seems to be turning positive. The Romanian subsidiary of Millennium performed satisfactory in net trade incomes. The same report states that Poland was a market that showed a favorable performance for Millennium bcp.
The losses of Millennium Bank in Romania reduced to EUR 10 millions in the first half of 2011, from the EUR 13 million value recorded in the first half on 2010. In addition, a 22 percent increase was recorded in banking incomes, from EUR 12 million in H1, 2010 to EUR 14.6 million in H1, 2011, while operating costs slightly increased by 0.6 percent, from EUR 20.5 million to EUR 20.7 million.
The gross value of loans to customers gained 14.5 percent, from EUR 312 million recorded in H1, 2010 up to EUR 357 million for H1, 2011. Customer funds also registered a growth of 12.3 percent, from EUR 221 millions in H1,2010 up to EUR 248 millions in H1, 2011.
Millennium Bank closed 8 eight branches, leaving only 66 operational in June 2011. In addition, 14 jobs were slashed, leaving 691 employees in the Romanian offices of the bank.
Ovidiu Posirca