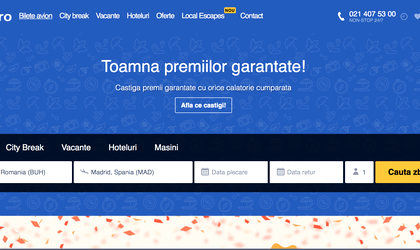 According to a survey by Mercury Research, Vola.ro is the most trusted Romanian online tourism agency. Other companies surveyed are Avion.ro. eSky.ro, Fly-Go, Paravion, Tripsta and Vola.ro.
According to the survey, 33 percent of those who used Vola.ro services said they trusted the brand, followed by Avion.ro, with 22 percent and eSky.ro, which recorded 21 percent. When it comes to customer service, 30 percent of Vola.ro clients would recommend for its timely support, while 26 percent do so for Avion.ro and 20 percent for Paravion.ro. Out of the top three agencies, Vola.ro is the only one that offers a Customer Care service 24/7.
The survey, conducted in mid-September, made a comprehensive analysis of the Romanian tourism market, with the aim to identify the online tourism agencies that Romanian tourists trust, what makes a prospective client choose a particular online platform, what makes them come back and more.
This is the first time a study explores the concept of trust in the context of holiday purchase, and shows that tourists are starting to distance themselves from special offers and very low costs and come to appreciate more the pre and post sale support provided via an agency's customer service team as well as its reputation on the market. According to the study, these are the signs that the Romanian tourism market is maturing.