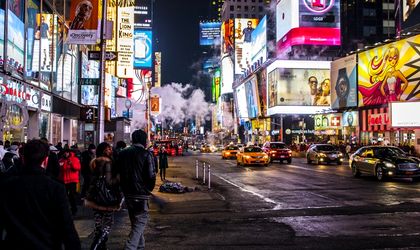 As you may know, once again a part of the BR team went to the most important cultural events of the country, traveling from north to south and from east to west of Romania. But what was absolutely amazing this year in terms of brand endorsing local cultural events? I made a list, hopefully I didn't forget anything notable.
As we previously reported, according to the Romanian platform of cultural news, www.art7.com, at this moment, in Romania, we have 1,124 festivals. In my opinion, from this incredible number, probably 30-40 events/year are worth seen/attending for the quality of the program and the topics discussed.
TIFF for gourmands
Starting last year, TIFF has launched a new section of the festival, FOOD FILMS. For those passionate about food and the culinary art, these documentaries wisely selected are pure joy. The event was endorsed by Staropramen beer. They mixed the documentaries with real food, a quite interesting experience.
Read also: Staropramen: How is the private sector boosting Romania's cultural scene
Lidl offering royal experience at Electric Castle
Probably the most creative brands have been involved in Electric Castle this year. By far, the most amazing experience was offered by Lidl, as I previously explained it in a dedicated article for the event. This year, a new, unexpected kingdom broadened festival-goers' horizon all designed by Lidl. Read about the experience here.  
Read also: Infographic: brand experiences at Electric Castle
VISA using Morgan Freeman's voice as an answer for an Untold fan
Probably one of the most viral videos online this summer, Morgan Freeman talking with a Romanian woman. How did this happen? A middle-aged Romanian woman left a comment on Untold Festival Facebook page explaining how thankful is she for the festival that just ended. She has a student son who is also a DJ and she enjoyed the festival since its first edition, three years ago.  She attended the event with her father, who is 86 years old. This is how eclectic Untold Festival is: from 5 years old participants up to 86 years old. Visa brand was so impressed by the story of this lady that they convinced Morgan Freeman to thank her. How cool is that? Read here about the brand activation.
Read also: VISA: How is the private sector boosting Romania's cultural scene
Blending spirits powered by J&B
The blending spirits first happened in 2016, in a wonderful performance which took place in an airplane – an unplugged concert with Delia and Adi Despot, while heading to Electric Castle 2016. They continued the blending with more and more interesting combinations this year and very well organized concerts. So thumbs up for J&B!
Read also: How are alcohol brands in Romania linking their products with the hottest cultural events
Red Bull Music Academy
The Red Bull Music Academy phenomena has reached Romania as well. As a fan of their work and especially of their initiative to change a bit the professional music scene, I was very happy to see that they invited Daniel Miller in Romania for a session consisting of documentary, Q&A and, of course, music. Don't know who Daniel Miller is? Maybe Depeche Mode, Mobius or Nick Cave tell you something about him.
Coca-Cola taking over all the TV commercials in Christmas Eve
If you are still spending time in front of the TV, you should probably know that every 15 minutes the movie you want to see is interrupted by commercials. This is how TV functions, basically. But this Christmas, Coca-Cola did something pretty cool – they bought all the commercials from the Christmas Eve in order to offer a full movie experience to those willing to watch Tomorrowland on Antena 1. Thumbs up, cool brand!