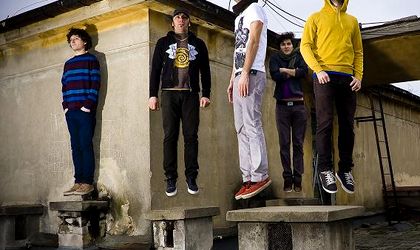 The Amsterdams, one of the Romanian newer indie acts, will be the opening act of The Cranberries, as announced by promoter Events. The Amsterdams's gig is due to start at 19.30 while the Cranberries recital will be pushed half an hour later, at 21.00.
There are still concerts for The Cranberries concert which will take place at Zone Arena. If you hurry, you may acquire them from the Eventim network at prices such as RON 120 (B sector), RON 170 (Official Tribune) and RON 190 (A sector).
The Amsterdams started their career in 2005 and several years later they already are part of the festival circuit, also with concerts abroad. They launched their first album called Automatic EP in 2008, which contains the singles Suffering & Surfing and Petrolize All Mice, which were also aired on various English Channels such as BBC6. Last year, the band launched the album Adolessons, edited and promoted through their own effort. The first single off this album, Chased by the Housewives draws the attention of the public in The Netherlands and they are invited to have two concerts that fall. The Amsterdams are now working on new material with Electric Brother and are planning to release a new album at the end of the year.
Otilia Haraga