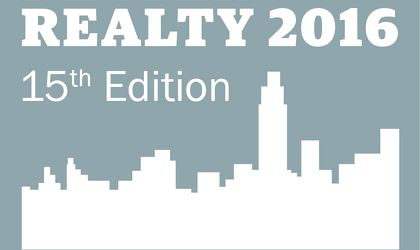 Business Review organizes the 15th Realty even on Thursday morning. We will provide an online coverage of the event throughout day, with the main statements made by developers of office, industrial and residential projects in the country, alongside with the opinions of the consultants.
Mihai Paduroiu, head of office agency, CBRE Romania: Romania is the most attratctive market in the CEE on office space.
We have a very dynamic market on demand and on new business on the market. Last year, we had 70,000 sqm rented by new companies in Romania or by companies that have decided to expand their operations.
Cluj-Napoca, Iasi and Timisoara have grown tremendously in the past three years in the office segment, says Paduroiu.
Sorin Visoianu, country manager operations Romania, IMMOFINANZ: 2017 will be different from mid-2016 in terms of office projects. Aside from the current space, we should see what we offer in terms of services. Since the start of the year, we had 37,000 sqm freshly leased, out of which 20,000 sqm is for new companies.
"We have implemented the consierge service in all of our buildings," said the executive.
Now you need to offer services, not just space, and to have an flexible policy in relation with the clients.
"We want to transform Iride Business Park in Iride City," said Visoianu.
Aurelia Luca, country director, Skanska Property Romania: Companies are looking for consolidation and flexibility on office space
We are developing projects primarily taking into account the needs of future employees that will work in the offices.
Andreea Patrascu, program management office manager, Orange Romania: We have relocated 1,600 employees from four buildings with a different structure in only one office building. The new office space is customized depending on the activity of employees.
"We have registered an increase in the productivity of employees following the relocation," said Patrascu.
Antoniu Panait, managing director, Vastint Romania: We are working on two projects at the same time. Compared to other capitals, Bucharest has a small share of offices.
We have decided to invest in the Timpuri Noi area because it has a very good infrastructure and employees can get faster to the offices.
"We have just signed the construction contract for Business Garden at Orhideea," said Panait.
We will develop at the Timpuri Noi project up to 150,000 sqm, said the representative of Vastint Romania.
Florin Furdui, country manager, Portland Trust: The green certifications today are a must-have today for buildings and on the list of the CSR of organizations it represents a box that needs to be ticked.
Floreasca Park consumes 30 percent less energy because of the heat pumps that were installed in the building.
Geo Margescu, founder & CEO, Forte Partners: We, as developers and investors, should become a force and ask authorities to work on an urbanization program for Bucharest
The retail and industrial panel
Liana Dumitru, associate director retail agency at Colliers Romania: There is a good feeling in the market this year. This comes after in 2015 fashion retailers have seen their sales go up by between 10 and 20 percent. They are also looking at expanding their networks. If last year they opened on average one or two new units, this year they are planning between three and five stores.
Iuliana Ghimpu, leasing manager at Anchor Group: It is very important for consumers to have the full shopping experience when they visit a store. This is why physical shops are relevant and will remain relevant despite the rise of online stores.
Oana Vijiala, general manager, AFI Palace Ploiesti: We have seen that retailers who invest in store facelifts can increase their sales by as much as 20 percent. Such investments really pay off.
Cristina Pop, head of industrial agency, JLL: For years after the crisis there was very little activity on the industrial and logistics segment. There were either relocations or downsizings. In the last year and half, however, we have seen a growth trend coming from both the production and logistic segment.
Marian Orzu, head of leasing and business development at CTP: Our target is to reach one million sqm of space by 2018. Right now we have around 370,000 sqm and by the end of the year we will reach approximately 500,000. We will do that by organic growth as well as further takeovers although there aren't many more products left in the market.