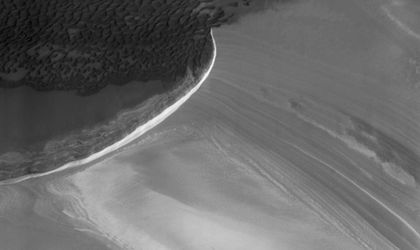 Over the years, the climate on Mars has got colder, leaving most of its water in an ice state – but the discovery of water in liquid form announced by NASA is very exciting because this is essential for life to exist.
It is believed that there is a lake about 1.5 km underneath the planet's south polar ice cap, which is about 20 km wide. The discovery was made using Marsis which is a radar instrument on board the Mars Express orbiter.
The orbiter wasn't able to work out how deep the lake might be, but scientists don't think it's more than one metre.
It's not the first time that researchers have got excited about water on Mars. Previous studies found possible signs that water could have flowed there at one particular time. For example, Nasa's Curiosity rover has explored lake beds which show there used to be water on the surface of Mars in the past.
But this is the first sign of a permanent body of liquid water currently on Mars, and it's a really big deal.
According to Manish Patel from the Open University the discovery is like a treasure map – except in this case, there will be lots of 'X's marking the spots.
Scientists think it is likely that the Mars's water to have a lot of salt dissolved in it, which would stop it from freezing.