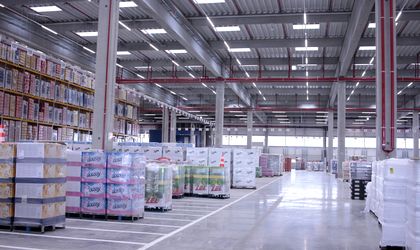 Lidl Romania has opened in Lugoj its first green logistics center, built after an EUR 20 million investment. The center, spread over 45,000 sq. meters, will serve 45 stores in south-west Romania.
The capacity of the logistics centre stands at around 22,500 pallets or the equivalent of 680 trucks and receives a daily volume of goods of around 2,000 pallets. "The warehouse will facilitate the flow of supplies to stores in the south-west. They will carry out all the processes that allow us to ensure product quality and delivery on time in stores. The team here in Lugoj is ready to provide the best service. We are ready to face any challenge, because each employee has benefited from a period of schooling in one of the other three logistics centers of Lidl in Chiajna, Nedelea or Iernut, " said Christina Lang, Lugoj Regional Director at Lidl Romania.
The fourth Lidl Romania logistics center is built using state-of-the-art sustainable technologies and is the retailer's most modern from the point of view of operating tools used by staff. Built by Romanian developer Bog'Art, it features modern green solutions and technologies that ensure an increased standard of energy efficiency. For the building, the developer opted for crushed concrete and incorporated recyclable materials. Moreover, the building has a low energy consumption, and low CO2 emissions.
"We wanted to be part of this project because it was a challenge in terms of building solutions, the delivery time and new technologies. Alongside materials used to build the warehouse, we implemented eco-friendly procedures, reducing the amount of waste generated by the building site by 75 percent. At the same time, the building's heating system was designed to cut by 50 percent the energy consumption by reusing the heat released by the cooling system," Bog'Art General Director Sorin Greu said.
The warehouse is located on a 160,000 sq. meters plot of land, enabling future expansion plans. "An important factor in choosing the land was the proximity to the A1 and A6 highways, something that allows us to optimize the trajectories of transport vehicles and, implicitly, helps us reduce the impact on the environment," Claudiu Riza, said Regional Development Manager at Lidl Romania Claudiu Riza.
The logistic center employs over 200 staff and features a canteen, meeting rooms, lockers and a sports field to be used for recreation and competitions. Drivers who make deliveries to the Lugoj logistics center can use a space especially designed for them, featuring showers and other facilities.
Georgeta Gheorghe