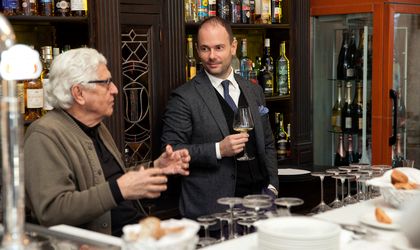 Le Bistrot Francais posted an EUR 850,000 turnover in 2016, and forecasts a 25 percent growth in 2017. At the end of last year, the French food restaurant relocated to a new address, in a fully-renovated location which also displays a rich collection of Romanian art.
Hosted in the former residence of French architect Albert Galleron, who built the iconic buildings of the Romanian Athenaeum and the National Bank of Romania, the restaurant features 64 seats, spread between its main room and three private lounges. Le Manoir, the group that owns the establishment, invested EUR 600,000 in refurbishing the interiors, as well as fitting the kitchen and setting up the wine cellar.
In its new location, the restaurant put up for display a collection of Romanian paintings, valued at EUR 150,000. The Bistrot Francais' wine list, featuring around 600 Romanian and foreign labels valued at EUR 200,000, brought the restaurant the Wine Spectator Best Award of Excellence, alongside a selected number of other such establishments.
The 25 percent growth is based on estimates that the restaurant will receive an average of 50 customers per day and will pick up an average bill of RON 250. According to Cristian Preotu, owner of Le Manoir Group, the restaurant boasts "a haute-cuisine menu, with Basque influences and a remarkable art collection, now open to the public. Thus, we manage to captivate both Romanian guests, who admire and pride in the values we promote, as well as the foreigners and expat category, who have the chance to make contact with representative elements of Romanian culture, while enjoying French food and fine wines."
According to Preotu, the Group is set to open a Romanian wine bar, offering around 30 labels by local producers and around 50 types of Romanian traditional brandy.
Le Manoir Group was founded in 2004 by Cristian and Maria Preotu and includes 4 shops selling Comtesse du Barry shops, French chocolaterie Michel Cluziel and restaurants SushiRoom and Le Bistrot Francais, as well as a division of corporate products and an import and distribution division of food products and beverages.
Georgeta Gheorghe