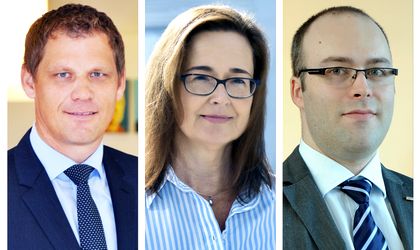 Professional services firm KPMG Romania has appointed three new directors from October 1. Rene Schob joins the firm as partner and Tracey Walker and Ionut Mastacaneanu are promoted to directors.
Rene Schob, partner in Taxation Services has more than 17 years of experience, out of which nine as managing partner of other international consultancy firms in Romania. He will provide coordinated assistance to clients,  focusing on large and medium privately owned businesses. In his new role, one of his objectives would be leading and developing the KPMG German desk capabilities.
"The presence of German-speaking investors is significant in Romania and I am glad to add my contribution in advising such clients in various fields of KPMG's services," says Schob.
Serban Toader, senior partner at KPMG in Romania, adds: "I'm pleased to welcome René to the Partnership, who brings added value to our firm through his experience and identifies strongly with KPMG values. The new appointments reflect the hard-work, passion and accomplishments of our people, but also our commitment to further invest in becoming the clear choice for our clients."
Tracey Walker, director in Forensic Services, is a South African with more than a decade of forensic experience obtained whilst working across the globe, including in Romania, Hungary , Germany, Slovenia, South Africa, and the United States. He has managed and carried out investigations into bribery and corruption, as well as fraud and misconduct, in both private and public sectors, also helping clients with Foreign Corrupt Practices Act (FCPA) reviews. As director, Walker will continue to develop KPMG's Forensic services and assist clients to proactively manage their risks and to make informed decisions.
Ionut Mastacaneanu, director in Tax Services, began his career in KPMG 12 years ago and he leads the firm's financial services tax practice, working with a group of more than 15 professionals, specializing in fiscal aspects of financial transactions. He will continue to lead the team towards developing innovative and practical solutions for the clients.
"What attracted me then to this industry and continues to drive me are the challenges generated by the ever-evolving environment, in which flexibility and swift reaction to change become of utmost importance," said Walker.
Georgiana Bendre