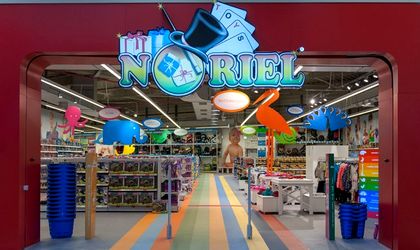 Enterprise Investors appoints a Polish head for Noriel, the toys company, Marek Franciszek Maciejko, while Cristian Constantinescu will remain councilor of administration on development issues, acquisitions and transition post acquisition, according to a decision of the company.
The Polish investment fund Enterprise Investors bought the toys stores Noriel in April from the brothers Cristian and George Constantinescu, the main shareholders, and the Axxess Capital fund.
Enterprise Investors aims to double the Noriel stores number in the following years, as it did for the food retailer Profi.
Noriel Group includes the Noriel Impex companies (toys distribution), Toys and Games Industry ( toys factory from Prahova) and Intertoy Zone ( physical retail division with 47 stores and online).
The Noriel sales grew by 30 percent in 2015, close to EUR 30 million, 2015 being the best historical year for the company.  The stores network represent almost 75 percent out of the total Noriel Group business and had the best evolution from 2011-2014 period, with an average business growth of over 40 percent annually. Also it had a profit of RON 3.9 million in 2014. The distribution registered a growth in 2014, after a drop in the previous years.
Noriel was founded in 1995 by Constantinescu family as importer and distributor of toys and games.
Enterprise Investors is one of the large private equity companies from Central and Eastern Europe and was founded in 1990.