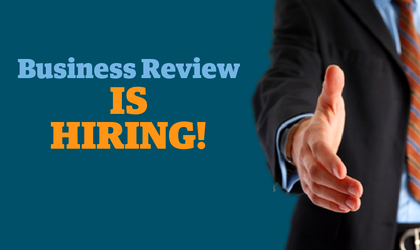 Join Business Review's marketing team! Prepare for an excellent career path. You will have an unique opportunity to leave your mark on Romania's top business community.
We are looking for a marketing executive to join our team.
The Marketing Executive oversees day to day marketing activities for the Events & Marketing department.
Responsibilities: 
– Planning, developing and implementing effective marketing communication campaigns for BR events and projects
– Using the full marketing mix for the BR's marketing communications
– Writing copy for all marketing collateral, including brochures, letters, emails and website
– Undertaking all necessary marketing activities to ensure targets are met
– Organizing and managing event's details such as attendees list, special guests, equipment, promotional material etc.
Requirements:
– Previous experience in a similar position
– Strong project management/organizational skills
– Attention to quality and detail, creativity
– Must be able to handle a high volume of work (ranging from very detailed to strategic)
– Social media skills
– Proficiency in English
– Computer skills – MS Office Package
– Flexible and a self-motivated team player
– Experience in media would be an advantage
Please send your applications (CV, letter of intent) to events@business-review.ro.
Business Review is an equal-opportunity employer and welcomes applications from all sections of the community regardless of race, gender, sexual orientation, religion or social status.
For more information about what Business Review represents on the Romanian market, take a look at our website or Facebook page.
About Business Review
Over the past 19 years, Business Review has brought the story and the backstory of business on the desks, minds and life of thousands of decision makers, entrepreneurs and officials from Romania and abroad. We have served the business community with more than 200 B2B events, hundreds of magazine issues, thousands of stories and articles. Year by year we try to develop everything we do and to support the business environment in Romania by bringing the best in class solutions to develop, to network, to have access to accurate information, to create value for businesses, for people, for Romania.