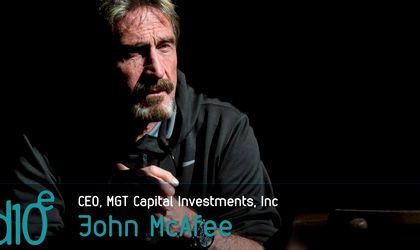 Speaking at the d10e conference on decentralization, cyber security pioneer John McAfee raised awareness on the danger of overlooking security threats.
According to McAfee, the millions of internet and smart devices users should be aware of several underlaying problems. Firstly, individuals should be aware that the security and privacy risks go beyond exposure to companies that gather their personal data in order to customize ads. "It is almost as we are schizophrenic. Google, Apple are designing tools to spy. They want to know who your friends are, what you like. These facilities can be used by hackers. If they want to sell me a pair of loafers or a suit, I can choose not to buy. But when they want to blackmail me, that is a different thing. The problem we are facing today is one that is self-created. We have not looked close enough at the foundation. We are living on the edge of a cliff," McAfee argued.
Secondly, the responsibility of protecting their privacy lies with individuals themselves. "We have a fundamental problem we must be aware of. It is human nature to delegate responsibility… wouldn't that be great? But we cannot abdicate responsibility for our own security and privacy." 
d10e is the leading global conference on decentralization. Past editions took place in Amsterdam, San Francisco and Singapore. The 2017 edition (February 21-22), the event's sixth, was the first to take place in Eastern Europe.
Georgeta Gheorghe