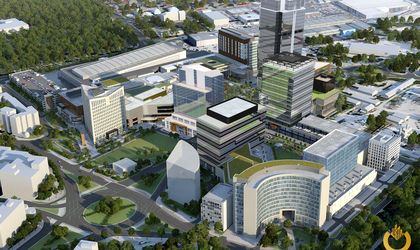 Iulius Holding, the company that subsumes all the firms that manages and develops the real estate projects of Iulian Dascalu, recorded an income of RON 833 million in 2017, 330 times larger than the figure published in 2016.
Probably the huge figure is the result of the relationship with south african investment fund Atterbury, who bought last year half of Iulius real estate network of projects in Iasi, Suceava, Cluj-Napoca and Timisoara.
On the same heights was the profit of Iulius Holding, who reported RON 787.3 million for 2017 around 350 times bigger than the nuber registered in 2016.
Iulius has an operational portfolio of more than 260,000 sqm of retail space, and 120,000 sqm of office space. The company developed the Iulius Mall country-wide network of four regional shopping malls in Iasi, Timisoara, Cluj-Napoca, and Suceava, and the urban mixed use project Palas Iasi.
In the office segment, Iulius is one of the largest local developers and operators of office space, with nine A-class buildings integrated in mixed use projects, under the United Business Center brand.
Iulius is currently developing the Openville project which will include and extend Iulius Mall Timişoara, the second mixed use project in the company's portfolio, after Palas Iasi.
Openville is meant to be the largest business, shopping and entertainment center in Western Romania and it combines more than 130,000 sqm of office premises in seven office buildings, 131,000 retail sqm, more than 450 stores, restaurants and themed cafés, a multiplex cinema, a fresh market area and four events halls and the necessary investment reached EUR 220 million.