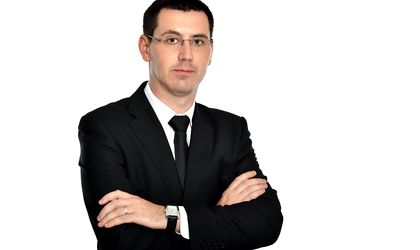 Razvan Nica, managing director of BuildGreen, a company that offers developers and property owners consultancy for securing green building certifications such as BREEAM and LEED, tells BR about how demand for such certifications is on the rise and how residential will soon follow suit.
Simona Bazavan
Has interest in securing sustainable building certifications for real estate projects gone up among local developers and property owners?
The simple answer to that is yes. They do place a greater importance on securing such certifications. Interest started in 2008 and 2009 and in 2010 it finally took shape. At first it was a novelty for the local market. The first developers were pioneers and they tried to introduce these certifications for marketing reasons as they offered them a means to differentiate on an increasingly competitive office market.
As time went by, developers also saw that the conditions they needed to meet in order to secure such certification also helped with the project management and quality control of their properties. That is why over the past few years we have seen developers put in place a clear policy around green certification, such as Skanska,
Portland Trust, Globalworth and more recently NEPI as well. Finally, such certifications act like a quality checklist for a building because the criteria one needs to meet are very clear and objective. I would say that all of the class A office stock de-livered this year in Bucharest is certified.
When it comes to choosing between BREEAM (Building Research Establishment Environmental Assessment Methodology) and LEED (Leadership in Energy and Environmental Design), which do local developers tend to prefer?
I think that overall there is a larger number of BREEAM-certified buildings. The first one was in 2010 and by 2014 another six or seven projects had joined in. BREEAM's upgrade in 2013 made its certification criteria stricter which in turn made some developers turn to LEED which has grown at a faster rate over the past few years. The first LEED certification for new buildings in Bucharest was Skanska's Green Court.
Developers are always looking to optimize their costs and this is why most opt for one certification or the other based on costs and the difficulty of attaining it. Some developers I have worked with have initially asked me for an analysis of the two systems and the impact each will have on the project and the overall budget in order to take a decision. There are also situations when a project is better suited to one certification system or the other. It depends on location, technical requirements and other aspects.
Fewer developers are dedicated to either BREEAM or LEED and stick to their choice regardless of the fact that, for example,
BREEAM was upgraded earlier this year or that a new version of LEED comes into force at the end of November. Demand for both certifications is growing but I expect the share to remain at about 60-70 versus 30-40 in favor of BREEAM.
How much do the developers or owners of an office project in Bucharest allocate on average to secure a green certification?
There are variations from one project to another. It all depends on the moment the developer decided to start the certification process as well as the project's initial plans. In some cases the project is so good that one doesn't need to intervene too much in order to secure a certain rating. The desired rating is also important – "silver", "gold" or "platinum" for LEED or "good", "very good" or "excellent" for BREEAM. One thing is for sure, I can't agree with the suggestion that certification costs 10-20 percent of a project's construction budget. Under no circumstance. I would say it represents no more than 5 percent of the construction budget of a class A office project in Bucharest.
Is demand for green certification also growing among retail projects?
Yes, demand is growing and after office, I believe, retail and industrial are coming behind and residential will follow. Presently there is only one retail project certified as a new building and that is Coresi Shopping Resort Brasov. For existing buildings there are several projects currently in the process of being certified and owners are interested in securing such certifications.
Their main motivation is the same as that of office developers – reducing maintenance costs and optimizing facility management costs. And there is also the fact that they align themselves to this growing trend. It is a corporate policy for many. For example Iulius Mall is LEED certified for "existing buildings" and we also certified two of NEPI's projects about one year ago. We are currently managing the certification of 16 shopping centers in Bucharest and secondary cities.
Do you expect the trend to expand to residential projects as well?
We know that there is already a BREEAM-certified residential project in Cluj-Napoca. This is not a coincidence as in Cluj-Napoca there is a subsidies system in place for this. Over the next two years we will have at least one certified residential project in Bucharest as well, regardless of any subsidies.
There is a delay in Bucharest because as far as developers are concerned there hasn't been demand for green certified housing so far. Buyers simply haven't been demanding this and so for developers there was no reason to take on this cost. Nevertheless, I am convinced that Bucharest will soon follow suit. I think this will be a natural evolution for residential projects that target clients with above average incomes. These are people that work in certified office buildings and they see the benefits and understand the relevance of such certification.
How many projects are you working on at present and what was your turnover last year?
We are working on around 30-40 projects in various stages at present. Such projects take about two years to complete. So far this year we have signed 19 new contracts, about double last year's figure. There are projects where we do certification and others where we only offer consultancy or assist the general contractor. About half of this year's contracts involve the certification of new projects. Our turnover last year was around EUR 250,000 and this year I hope we will go beyond that.