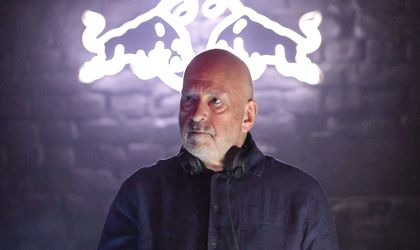 Founder of Mute Records, the label that was responsible for providing a platform for Depeche Mode, Yazoo, Erasure, Nick Cave and Moby, among others, Daniel Miller is certainly one of the most important figures in the development of electronic music. He returned to Bucharest for a DJ set and a talk with the audience at Control Club for Dokstation Festival. Just before going to the DJ's table, BR talked with him about the worldwide music industry.
In the 70s, electronic music was quite elitist due to the costs of technology used and the novelty. How would you define it now?
Electronic music wasn't inherently elitist. It was just because the instruments were extremely expensive, so only few people could afford it. Now, everyone can make it, on their phone, tablet, computer, anyway you want and you can also immediately broadcast. Nowadays, it is the easiest and accessible way to make music. Therefore, it went from the almost inaccessible to the most accessible in quite a small period of time.
Did the party culture changed in any way, especially in relation to electronic music?
No, it hasn't changed that much since the '80s. The music has changed a bit, but the culture is still there. It's different in different countries, that's for sure, but the party culture feels the same as when I discovered it. People come to enjoy the music and the party; they don't really care about the type of music as long as they can dance.
Everyone quotes you on how you discovered and produced albums for Depeche Mode. Also Mute Records produced the album Maria T for the Balanescu Quartet back in 2005. How did you meet the Romanian artist Alexander Balanescu?
I knew his manager at the time; I had heard of him and I saw him performing with Michael Nyman. It was a different kind of thing than what we had typically done before, but he was very anxious to do this crafted project. Also, his manager thought that Mute was the place to produce it, so this is how we met.
In this context, what can you tell me about Balkan music?
Not much, besides the collaboration with Alex Balanescu and all the gypsy and traditional folk music we worked on for the album. Also, it was a time when wedding Balkan music was trendy because of the energy and excitement. And I liked what I heard.
How did the discovery of Nick Cave happen?
I met Nick at a birthday party. He first came to London in 1980, I think, and he approached me. He had an Australian label producing the band and the guy representing the label told Nick to come and see me, I don't know why. And I wasn't really in the position to do it at that time. Before Depeche Mode, I didn't have much money. I thought they were a fantastic band and I was seeing them around London quite often. Eventually, they came back to me in 1983. And the rest is history.
Currently, are you still searching for artists? What is the process like now? Is there still a special room with tons of demo cassettes sent to you?
Well, it hasn't changed much for me. We still receive lots of demos, but currently I'm not doing any research. I do go to gigs, but not that often, and I relying on friends from the industry to make suggestions. The thing is that I need to connect with the music I receive in a way – this is how I select the artists. I can't really explain how this connection takes place, but I need to feel it. That's the first step. Then it's about meeting the artist – if we have similar views and similar goals, then we can work together. But, the most important thing is that everything should be alright – on the music level, on a personal level and on a professional level.
In terms of networking and opportunities, where is the place to be?
Online, is the answer. This is the place to be. Of course, there are a lot of opportunities offline in every city in the world, but more than everything, you should be online.
In recent years, talent shows like X Factor or *insert country name* Got Talent have emerged. Are these places you look for your next artist?
Well, these are only TV shows for me, especially because the process is pretty brutal. The process, not the music. It's not my kind of music, which is not bad, but this is definitely the place to find a certain type of music, although it's pretty commercial.
Is commercial radio still the key to success for musicians?
I think that radio is not actually the key, but one of the big keys. Despite everything else, radio is still very important. But Spotify and blogs are pretty important too, along with the online suite. If a radio station sees that the online presence is growing, then they take on the risk and bring it to radio.
For those at the beginning of their career, what advice would you give?
The only advice I would give is: don't do it – unless you don't have any emotional choice. If you are thinking that you are going to try and, if it doesn't work out, you'll go back to what were you doing, you will always end up going back to do that particular thing. It [music] has to be the only thing you do in your life. Also, I don't think of music as good music or bad music, I only believe in music which you connect with or not. You have to really put your life into it.