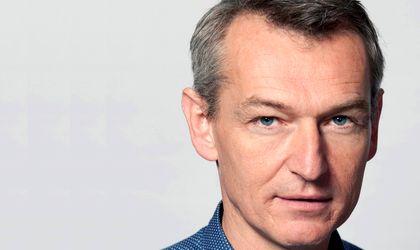 Columnist, teacher and designer, he moved in 2009 to Berlin, working as an event initiator, writer and moderator in the field of design. He was a guest professor at both the Berlin design faculties (Weißensee & UDK) and worked with organizations such as 'Design and Government', DMY, International Design Zentrum and Palomar5.  While in Bucharest for the Romanian Design Week, Lucas Verweij offered BR an exclusive interview about his experience here, the design industry and the industry's trends.
Romanita Oprea
What was your impression about Romanian Design Week 2016?
Generally, I am very enthusiastic about the Romanian design. I saw some difference between sub-disciplines or some parts of it. I was very enthusiastic about the fashion design, about the graphic design. There is a lot of energy in the product design. I wasn't so taken away about the architecture part. The venue was fantastic, including the relation internal-external. I have the feeling that is a young and lively scene. Looks good.
What do you think it should be changed for the new edition, in order for it to become better?
I've studies quite a lot of Design Weeks, found out that there are more Design Weeks than weeks in an year ( over 60 and in 30 are a multi-day event), but I think the Romanian Design Week is the longest in the world, with 17 days. I would suggest to make it shorter, I believe it needs a little bit more focus. This is one thing.
I am a strong believer that The Week will grow in a natural way that suits the city, the local design scene of the country, so you don't have to stir it in some sort of direction, because it will develop. If the design scene is very much self-producing than it will go that way, if the design scene is very internationalized than it will be internationalized. That is the beauty of This Week. I was for example in the Reykjavik, where there is a completely different situation than here: is a small island, no production at all, so everybody is making something by themselves in a way and they are very connected to the modern art. They are not so focused on production, while here you feel there is a potential for production, for craft (a lot of wood, ceramics, etc). Therefore, I believe that the design scene reflected in the Design Week will always naturally grow in the way that culture consists of.
I would say: go with the flow!
Some people are saying they would like to see more architects and designers coming from outside Romania and presenting their works here. Do you think is something it should be done?
Romania is not the Center of the World, not that it exists one. I think is really good to "import" people and share information and get inspired and be connected to what's going on in the rest of the world.
For me, I don't need so much exhibitions. Exhibitions can be good to sort of educate the public, to get them aware of what is going on in the country and get the public involved in the change of the country's economy. The evolution of the design is also a reflection of the changes in the economy. Your parents definitely didn't tell you "be a designer or be as creative as possible", because you come from a different culture. The exhibitions are more for a broader public to see, but what the design scene really often needs is lectures, presentations and "connective intelligence", meeting up with each other, to get wiser, smarter, to know what's going on, to feel connected with the worldwide creativity.
You were talking in your presentation that the concept of design has evolved a lot and is like a white sponge that takes everything around it. Do you think you see all the representations that the design has at this moment in the Romanian Design Week or there are still some aspects that are not presented?
I would say "you ain't seen nothing yet of Romania", because applied creativity, what design represents, can be even much broader than what we've seen now. Right now is presented more the traditional design: craft, graphic design, architecture, fashion, but the whole surface economy, the interaction design, design thinking it will broaden. I can almost guarantee you that next year you will be seeing an even broader design, because once design it takes off in a city or a country, it will broaden. It's like water. It will flow. And it starts with a guy who makes a different coffee cup or different furniture or different interior design, but it will not get limited there. Because internationally the design will not be limited. And that is true for Romania as well.
In your opinion, with what you've seen so far, what would you say is the level of the Romanian design, compared to the rest of the Europe?
What is really important is that you are doing things. The question is not that relevant in any market you would look at. It's important that you show it, that you believe that you can make a living out of it, that the items can be sold and that the designers can practice and become better and better. And if somebody in New York likes a certain design or not, who cares? It's irrelevant. The important thing now is that you get the creative scene going, who shows and lives in a different way and that has a different manner of doing business and money than their parents did. And that is a big step.
You are doing great. You are using the materials and the craft that it has been here and that is great. That is what's relevant: that you get a specific climate that is born and raised here. It's much more important than if that can stand or not to a world level.
You also think about traditional inspiration?
Yes, I definitely do. It's really important and I like the projects with the craft done here. For example the Romania Project of Pataichin. One power of the design is to show what is already there. Design is not something global that is everywhere the same thing. If it's good it should have a different flavor, like cooking. I hope that they serve me something else that they serve me in Brooklyn. Or else, why would come here? I am not interested in some New York Chef who is doing something here as well, or a Bucharest chef that does the same thing as a New York Chef. Why would I care? For me it would be uninteresting.
For me it's interesting to see what is here relevant. For example in the South-Eastern Europe people can really draw, because in schools is a long tradition of drawing and is a drawing education. I was a Dean at the Architecture School and we had Eastern European students who draw fantastically, while Western European student can't draw at all or hardly do it anymore. While in my time when I was in school you were punished if you couldn't draw and you couldn't get in the University. You couldn't get in Art School if you weren't really good in drawing, it was mandatory. And you can still see it in graphic design, which is fantastic. That's in the DNA, in the genes of the culture that comes out in the design scene and makes it interesting.
You also talked about social engagement art that is changing to social design. Can you develop more on this idea please?
Because design is a very popular concept, what I've noticed is that people get connected with the design in a very broad sense of it. Design is much more now that product design. I've noticed that even in the "social engaged art" the people are slowly branding it as "social design". And I can see and imagine why, because social design is a very powerful concept. Is not as new as we think it is, Bauhaus was very socially oriented and it has always been in there this idea that you can change something socially, only with design. If you can gather around some people who can stich very well, make crafts very well, and you bring them together, you can regard it already is a form of social design. It's not so much about the output as it is about the process and the aspect of getting together. I was mostly showing was a change of the branding. Design is good to brand things because is popular, it attracts people. Under this flag of "social design" you can brand certain activities.
The revolution of the digital has been a major influencer over the design. How will the digital evolution still push the limits even more?
If you look at the history of taping devices, if you know how the recorders for journalists used to be (really big, with huge cassettes, microphones attached, etc) and then they became smaller, with smaller cassettes, and then mini mods, and then the mini digital recorders where you had everything on the stick. And now it's an app on the phone. There's a development from 10 kilos to 5 kilos to 2, 5 kilos, etc. To totally immaterial, to totally app. For a designer is the same development, because he used to make those big machines and it was a lot of work designing them, and now is the design of an app.
There are tons of examples of features that become ever more digital, therefore design becomes ever more digital. And somehow, I don't know the educational situation in Romania, but schools have a problem in education them. Designers are more educated to work with wood or ceramics when they actually should be taught about digital design, because the chances to become a digital designer are much bigger than to be a designer that works in wood furniture.
But somehow is not sexy or they don't have the right personnel to teach it, because is so fast developing, so the designers in this field either do not have a design education or sort of move in themselves. Very often they are self-trained. I think that the educational board should be more realistic about where the profession is and what the job is, because the job in digital will grow for sure. There is already a backlash, we are already behind in the output of digital design.
So this is the situation around the whole Europe? How is in Germany?
I think it's generally around the whole Europe. Then again, there are places where there are special schools or something in between digital development, which is half way programming and half way designing. And I know for example in Rotterdam they started 10 years ago with digital design and it became so big because many students came that they made a separate school which now is specialized in the whole field.
You also see more and more design offices not calling themselves like that anymore, but digital offices. Is something that is happening in Amsterdam and in London. The core business is not to design anymore, it's the digital development, because the designers cannot say anymore to the producers "this is my version, go on and produce it". You cannot separate anymore the digital from the making. You have to know all it takes to create the product. If you want to make an app for example you have to know about programming, how do these machines work and how the interaction is produced, etc.
You have to be more technologically connected. It's not so important anymore to sketch very well anymore, but to program very well or that you are very digitally native or digitally equipped to do that kind of work, which is really a different thing in a way.
In a way, for the design world is challenging to see if they can really stay connected. Because it might very well be that there will be a separate category, where there are other types of designers working. And that is something that I tend to see already. Real digital design is a different world and it needs a different training.
So do you have right now a different type of students coming to the University versus to the ones that were attending it in the past?
Yes, definitely. One of the developments is that 20 years ago on the Academy of Rotterdam (just as an example because I know the figures there) three quarters were free arts and one quarter was applied arts, including design, fashion, etc. Now, it's totally reversed. Only 86 percent is applied creativity and only 14 percent is doing art. Applied arts design are much more popular than free arts, although the whole infrastructure (museums, work places, etc) are all for this 14 percent. The few that go right now into free arts have a better infrastructure than all these people in applied arts that have to make it themselves, to make a living out of it.
In the days that I was going to school you could only study design at art schools, we had the same teachers as the art department, the same workshops as the art department, and there was always a one to one conversation. Now this is changing, the applied art becomes independent, sort of their own voice.
Can you say that there is a specific characteristic of the German design, something that makes it different from the rest of the design in Europe?
Generally, I am not so happy with ethnical characterization. Is there a typical German music, beer, chair, etc? It's hard to pin point, because we are all globalizing. Then again, the brands made in Germany, or designed in Germany sell very well.
I moved from the Netherlands to Germany and the design scene is very different, I can tell you for sure. Why? Because in Germany there is a lot more of industrially produced design than in Netherlands that hardly has any industrial production. It has much more service and advertising and more trade, but not a lot of production.
Therefore, you see that the education design and the students are more focused as well on working for a big brand in an industrial sense: Siemens, BMW, etc. That leads to a special flavor. It's good that a design culture takes the culture of a country into the design scene. Something that will automatically go and flow. You don't have to stir.
Do you see any trends for the next 2-3 years in digital design?
I think that one of the trends will be that we will buy less. We will be less interested in having a lot, because we are reaching the point where we have everything that we need, with the rise of the middle class. I also believe that the status of having less is bigger than the one of having a lot. We will see people trying to get rid of stuff and thinking twice about the types of products and things they buy. "I buy that one pair and that's it. I don't need more."
I think we are going to be more explicit and precise in what we want, which is very helpful for the design, because we try to make value, make something better than something ordinary from China.  It's not anymore about how much, it's about quality.
What is creativity to you?
Creativity I think is a mental issue. It's not about how well you can draw or paint. Creativity is about having a flexible mind and the ability to connect different frames of thinking together. And it's connected to humor, because you can see in humor the same set of systems. John Cleese is saying that "creativity is not a talent, it's a feature of the unconscious mind". If you allow the unconscious mind to speak it will pop up. If you study and spend a lot of time focusing on a particular problem and then you relax, you allow your unconscious to speak and the creativity will come up with something interesting.
I was discussing this with my wife and children and the only thing were I don't agree with Cleese, is that I believe that creativity is a talent. I do believe that people are born with a certain capacity for creativity and you can hit them and send them to museums all day long, but the level of creativity they could come up with is limited, if they don't have the talent within them.
More about Lucas Verweij
He founded a design office in 1996 where they designed projects for different governmental bodies. Some mapping projects (such as Randstad and Nieuwe Kaart) and public spaces. Schie was a typical example of the nineties Dutch Design attitude, as described in 'Superdutch' and 'Artificial landscape'.
In 2001 he moved to Premsela, Dutch platform for design. He worked as a program-manager.
In 2005 he changed to the Academy for Architecture and Urban design in Rotterdam. He was the Dean (director) until 2009. He started a magazine (Huig) and initiated masterclasses for urban-planners. With students they researched the impact of Olympic games on cities, which ended in a show in the Dutch Architecture Institute (Nai). He also co-founded a Design platform in Rotterdam (dpfr.nl), where they stage discussions and meetings for professionals in the creative industry.
Lucas have been writing during my whole career, for online and offline architecture and design magazines such as Dezeen, Items, Archis, SR & O, and Archined. Some of the articles are on his blog. He has moderated many discussions and sessions in the field of my work, interviewed designers and architects in public. He also recently wrote a book on design.
He trains people in public speaking and communicating, in design schools and in private settings. Most of the customers work in design and innovation.