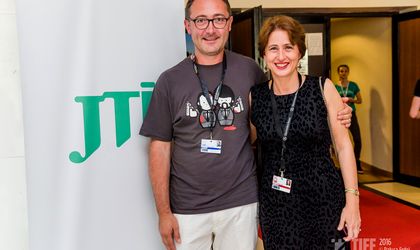 It's a fact that culture is still underfinanced in Romania, although official data shows that the Ministry of Culture's budget has increased by 51 percent since 2016, meaning RON 766 million. It's also a fact that each year, more and more companies decide to sponsor the cultural sector. Why? It's festivals' time in Romania so we asked some of the brands with whom we are meeting at these festivals what drives them to invest in this particular sector. Today's interview is with Gilda Lazar, Corporate Affairs & Communications director, JTI Romania, Moldova and Bulgaria.
You are one of the few companies that invest yearly in some of our best known cultural projects with a great tradition in Romania. What cultural partnership do you have this year?
According to company policy, our budget represents a percentage from the operational profit of the previous year, but irrespective of the business performance we have always supported our traditional Corporate Social Responsibility programmes. So we continue to our long time partners: Sibiu International Theatre Festival (FITS), Comedy Cluj Film Festival, Transylvania International Film Festival, RadiRo (International Festival of Radio Orchestras) and the national tours organised by Radio Romania, the Cultural Media Centre and Accendo Foundation. And don't forget about the Gigi Caciuleanu Romania Dance Company. The greatest achievement we had this year was the 18th event in the JTI Encounters series, organised in partnership with Japan Foundation, the Embassy of Japan in Romania and FITS, which presented the most important Japanese contemporary dance company: Noism. The two performances presented in Bucharest and Sibiu were an illustration of excellence in art and a statement of an extraordinary artist, Jo Kanamori, speaking about his own way of working and communicating. This 18th JTI Encounter was yet another testimony of our role as a promoter of the Japanese culture in Romania. In this respect, since 2005 we (together with the Japanese Embassy in Romania) have also been supporting the Romanian-Japanese Studies Centre within the Romanian American University; and since 2012, the Japanese evenings in partnership with Humanitas publishing house.
Read also: Analysis: How is the private sector boosting Romania's cultural scene
From your brand point of view, how does an ideal partnership with a cultural project looks like?
I think that an ideal partnership could be defined as a long term relationship in which the parties help each other to grow, develop and become better. It's a sincere commitment to achieve greatness together by giving something back to the community. There was a year when FITS was organised under the motto: 'building trust'. Maybe this should be the motto of every successful partnership. We are talking about trust in each other, trust in our impact on society, trust in the power of inspiring people.
But this mature approach is a must for everything we do as a responsible company, beginning with our daily activity, the investment in our employees, and including educational programmes or public campaigns. I should mention JTI's European Scholarships for Journalists, continuously developed since 2000 – and also the Scholarships programme with Europa FM. Starting in 2011, we began a partnership with the law enforcement agencies (Border Police, Customs, Police) to run training projects and public campaigns against illicit trade in cigarettes.
We have a strategic approach for all our social responsibility programmes, involving projects, budgets, human resources and logistics included in the Annual Business Plan. I would like to add that the company's management is really open to permanent investment in the community. Being an active actor in society represents one of the pillars of our business, not something additional to our activity.
When we speak of challenges, what do you see as the greatest obstacle to the successful development of cooperation between culture and arts on one side and successful companies on the other?
There are so many inspired cultural projects and Romanians generate such creative ideas that it is hard to just pick one! The main obstacle is also the best challenge: to choose from such a variety of projects the ones that best suit the vision of the company, the ones that promote the same values, the ones that could make a difference. To make the best of our collaboration, cultural institutions and private companies need to identify common grounds, objectives and understanding, not just look for immediate benefits. For us at JTI, every cultural project is a new experience and every partnership is for mutual future growth.
From your side, is cultural sponsorship gaining ground in Romania? Should there be some tax incentives for companies to finance the development of the arts? 
Cultural sponsorship could bloom all over Romania, because national institutions and events need support, due to ever-decreasing budgets. There are great projects and private initiatives that deserve full attention. Communication could help a lot and I remember an initiative of the Ministry of Culture, for creating a transparent platform, an inventory of existing sponsors, projects and policies, in order for the ones in need for financing to better understand and easier orient to present requests or proposals. As far as I know the project was abandoned. Current fiscal incentives could be certainly improved in order to boost cultural sponsorships, but this requires a long term vision at the state level. As a tobacco company we have lots of rules, policies and self regulations limiting areas of involved in the community. Thus, we  do not support projects related to sports, minors, health, religion, unions, political parties or individual cases. We do support local cultural events and institutions, projects related to Japanese culture and programs dedicated to elderly. The variety of our existing programs and partnerships demonstrates that "when you understand how to work within the limitations, there are infinite possibilities"- as the great musician Steve Vai said during an interview at "Garantat 100%", a  show supported and recommended by JTI Encounters for over eight years.