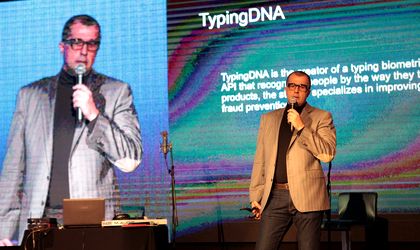 TypingDNA is the creator of a typing biometrics solution, a proprietary authentication API that recognizes people by the way they type on their keyboards.
Through its products TypingDNA authentication API (typing biometrics as a service), and upcoming TypingDNA Authenticator secured with typing biometrics, the startup specializes in identity fraud prevention. Winner of Best Newcomer for Romania at the Central European Startup Awards, it was invited to give a presentation at the European Parliament as part of 2017's EU Top 50 Startups.
In 2017 the TypingDNA team focused on developing a mature product and bringing it to market, to achieve market validation. "We made our first customers happy; we launched new solutions and completed our team," representatives said. "Until December 2016, around 1,000 biometric authentications had been performed. By December 2017, we had had hundreds of thousands of authentications.
Our customers are leaders in their industries and confirmed their trust in our solution over the last year." Currently, the team is putting together a new solution driven by demand in the financial sector. The new solution recognizes users based on how they type short repetitive text, such as usernames and passwords or credit card details. Launched in September 2017, this functionality achieves unprecedented accuracy for typing biometrics (comparable with facial recognition) and reveals applications as a stand-alone second factor of authentication.
At BR Awards 2018, TypingDNA was named Best Start-up.