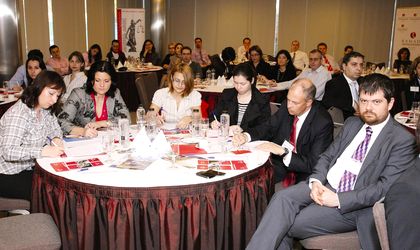 Better to prevent than to cure, agreed the specialists present at the latest Business Review event, Risk Management, held on November 17. Insight on ways to select cost-effective risk-management solutions and finding the appropriate methods to plan and implement such solutions were offered throughout the event by experts with various backgrounds, from legal, tax, business development, human resources to insurance.
At the first session of the BR Risk Management event, prof. dr. Joerg K. Menzer, managing partner at Noerr Romania, moderated the discussions, bringing into attention the hottest topics of risk management in Romania. Commercial risk management in companies active in Romania, as well as a proper definition to risk management were brought by Cristina Apahideanu, management consultant at Horvath & Partners. Internal risk management was approached by Barbu Mihaescu, managing director at Mattig Management Partners and Alexandru Enache, account executive and business developer at Gras Savoye.
Fraud risk management was the key issue developed by Kemal Ozmen, director, forensic leader, South East Europe, PwC Romania, who highlighted the fact that in Romania the average cost of fraud is of USD 1 million and a case of fraud occurs here once every two days. Why do people commit fraud? "Because they are under pressure", they "see an open door and take advantage of it" and have to keep up with lifestyle requirements, explained Ozmen. He also added that some of the most worrying aspects about the local market is that Romanians continue to remain optimistic about risks, not taking the crisis into account, and companies here also have a tendency to resolve issues in-house, rather than demand the aid of specialists.
Alexandru Enache, account executive and business developer at Gras Savoye tackled the more difficult issue of Romania's country risk and suggested possible ways for investors to manage it. Challenges that financial departments face during a crisis and ways to evaluate company risks so as to find the right insurance were also addressed by Enache who reached the subject of debt recovery along with the other speakers.
Risk management from the perspective of a financial institution, debt collection as a solution to manage risk, client portfolio assessment, as well as transforming risk into a competitive advantage were issues discussed by Karim Kheirat, country manager at ICAP Romania
The second session of the event consisted in the "Compliance Matters" workshop held by Iulian Patrascanu, managing partner, Fine Law, Patrascanu & Associates, Mihaela Cracea, Managing Associate, Fine Law, Patrascanu & Associates and Florina Olteanu, senior lawyer at  Fine Law, Patrascanu & Associates. Legal risk assessment was the key issue debated by the three specialists, from a HR, as well as contractual standpoint. Focus was put on legal situations that companies may be faced with if not properly prepared – as, for example, the legal aspects behind an employee's dismissal.  
Corina Dumitrescu