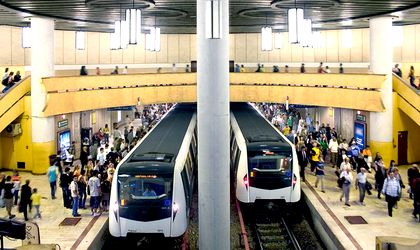 The Bucharest metro line Drumul Taberei – Universitate, (M5) connecting the capital's largest neighborhood to the city center could be opened in the summer of 2017, Minister of Transport Dan Costescu revealed on Wednesday. The M5 metro line will have ten stations.
According to the minister, four weeks after his latest visit to the site of the works, progress is visible. Following talks with the developers, Costescu said works cold be completed by mid-2017, a deadline the official deemed "realistic". The minister also referred to the previous deadline, which had been set for the end of 2017, and dismissed it as "unacceptable".
The project started in 2012 and was expected to be completed in 2014. Initially, it was funded exclusively from public money. However, works were halted one year later due to lack of funding, and were resumed only after the project received the European Commission's approval to be funded from structural funds.
According to Minister Costescu, it is important that the Drumul Taberei neighborhood be "freed" from the multitude of building sites. In the past four years, the official explained, the neighborhood has been "suffocated", therefore, where possible, they should be closed as soon as possible.
Built in the mid-to-late 1960s, Drumul Taberei is considered one of the few examples of successful urban planning among neighborhoods built during the Communist era. However, lack of a proper public transportation network has made it increasingly difficult for inhabitants to commute throughout the city. Once the Drumul Taberei – Universitate metro line is opened, new trains will be introduced, allowing travelers to reach the center of Bucharest in 15 minutes and the rest of the city within half an hour.
The ten stations of the Drumul Taberei – Universitate metro line are Raul Doamnei, Valea Argesului, Valea Ialomitei, Romancierilor, Parcul Drumul Taberei, Tudor Vladimirescu, Favorit, Orizont, Academia Militara and Eroilor. The new metro line will serve around 300,000 inhabitants of Bucharest's 5 and 6 Sectors.
Georgeta Gheorghe