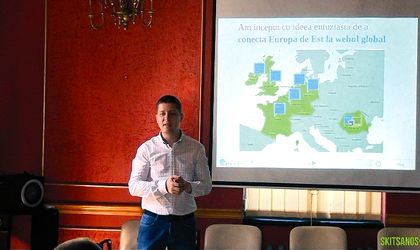 How to Web, one of the most comprehensives events on Eastern European web entrepreneurship, will take place on November 9 and 10 at the Crystal Palace Ballrooms.
The event, now on its third run, will gather 35 international speakers to debate topics such as the future of the Web, Eastern Europe's entrepreneurs, how to's, entrepreneurship, business development, financing and developing mobile apps, web technologies, cloud technologies and mobile development will be on the agenda. In total, there will be 24 presentations and 12 workshops on web entrepreneurship and technologies, as well as an exhibition area where more than 25 start-ups and companies in the technology field are expected.
The list of guest speakers includes Carlos Espinal and Reshma Sohoni, partners in Seedcamp; Alex Hoye, business angel and tech advisor; Jon Bradford, managing director of Springboard; Alastair Mitchell, founder and CEO of Huddle; Eric Wahlforss, founder of Soundcloud; Miki Devic, founder of HTTPool; Adam Somlai-Fischer, founder of Prezi.com; Branko Milutinovic, founder and CEO of Nordeus; Thai Tran, founder of Lightbox; and others.
B2B projects are the trend
"Until now, Romanian projects that have been successful on external markets have been services in the B2B area and it appears this trend will continue both in Romania and throughout Eastern Europe," Bogdan Iordache, managing partner of the organizing company Wembrio, told BR.
Such projects include UberVU, Brainient, and FlairBuilder, while local projects that have made it big on the Romanian market include Trilulilu, Autovit, BestJobs and eJobs, added the partner.   
Successful projects in Romania can be split into two categories: "projects that moved services from the offline into the online domain (such as eJobs) and projects with user-generated content (Neogen and TPU.ro)," said Iordache.
Financing opportunities are more numerous than they were two-three years ago, he added. Investment funds such as Seedmoney have been opened; VentureConnect, an initiative that connects entrepreneurs with investors, has appeared; and a series of business angels from outside Romania have started to make investments here in local and international projects.
"Nevertheless, there is a certain lack of financing for ideas that are at the beginning, which require smaller sums of money but also involve higher risks," noted Iordache.
The financing issue is sometimes viewed wrongly by entrepreneurs, who often seek to obtain financing for a business much too soon. "A simple concept, an idea on paper, will never be as convincing as a functional prototype, a coherent team and the existence of two-three clients," concluded the partner. 
Otilia Haraga