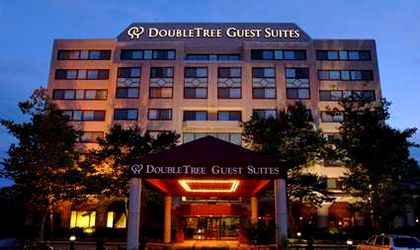 Hilton Worldwide has announced the signing of a franchise contract with VIS 7 Import Export SRL to open the first Doubletree Hilton Hotel in Bucharest by refurbishing the Bucharest City Piata Unirii hotel. The refurbishment works and opening of the hotel are scheduled for he second semester of 2011. This will make the new unit the fifth in the Hilton chain in Romania and the second Doubletree hotel in Romania after the Oradea one, which is planned for opening at the beginning of next.
The refurbishment of the unit, which was previously operated under the Tulip Inn brand, is expected to cost around EUR 1 million, with the financing being provided by a credit from BRD. The Bucharest City Piata Unirii hotel was opened in 2006, has 88 rooms and will be expanded in the next two years with 11 more rooms. The current occupancy rate is of 50 percent and registered a turnover of EUR 1.7 million in 2009. In 2011 Hilton is expected to open its first local economy hotel under the Hampton brand in Brasov. Athenee Palace Hilton in Bucharest, which is controlled by businessman George Copos, and Hilton Sibiu, owned by Nicolae Minea, are other Hilton hotels operate locally.
The Doubletree in Oradea will be opened under a management contract signed with Calipso S.A, a listed company owned by the investment company SIF Banat Crisana.
The Doubletree by Hilton, Oradea is expected to offer 147 bedrooms, meeting facilities for up to 350 people, a restaurant, bar, thermal spa and swimming pool. The newly built hotel will be located approximately 1 km from the city centre in a green recreational area, conveniently located for Oradea's many sites of historical and cultural interest, commercial centre and the international airport. Oradea will also benefit from new highway infrastructure connecting it with Romania's central cities, and neighbouring Hungary.
Doubletree is part of Hilton Worldwide, a global hospitality company, with more than 3,400 hotels and 550,000 rooms in 79 countries and more than 130,000 team members worldwide.  The company owns, manages or franchises some of the best known and highly regarded hotel brands including Hilton, Conrad Hotels & Resorts, Doubletree, Embassy Suites Hotels, Hampton Inn, Hampton Inn & Suites, Hilton Garden Inn, Hilton Grand Vacations, Homewood Suites by Hilton, the Waldorf Astoria and the Waldorf Astoria Collection, as well as Home2 Suites by Hilton.