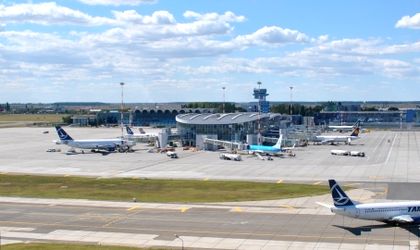 International Airport Henri Coanda was ranked 5th by Airports Council International-Europe in top European airports with highest air traffic growth in the first 10 months of the year, according to the National Company Airports Bucharest release.
According to the ranking, Henri Coanda airport had an increase by 16.7 percent in airports with 10-25 million passengers category.
"International airport Henri Coanda was on a consistent growing trend, outrunning airports such as Lisbon, Berlin, Brussels, Athens, Milano, Prague or Budapest. To reach the maximum growth potential, we set as priorities the activity efficiency, the investments reconfiguration and the fast release of airport development strategy, with a continuous focus on safety and security. We succeeded in record time to optimize the services for passengers and to expand our processing capacity, so that the Henri Coanda airport transit to be as faster and comfortable as possible," said the general director of Henri Coanda, Bogdan Mindrescu.
According to the release, the management of National Company Bucharest airports took this year a series of operative measures that reduced the waiting time of passengers for the boarding documents control. Thus, the processing capacity of Henri Coanda passengers at control   increased by 50 percent on both departures and arrival and the waiting time for the documents control dropped by 10 times (currently being 2-5 minutes).
Also, to reduce the waiting time at the security control on departures, the passengers' control and hand luggage control were optimized.