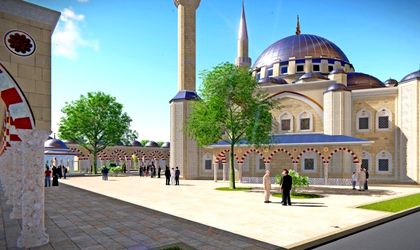 The Muslim Cult in Romania abandoned its project to build a grand mosque in Bucharest on a land that was donated by the Romanian state.
It's not clear why the project was abandoned, but the mufti Iusuf Murat said the cult could not afford the overall costs for this investment.
"We could not continue the mosque project, not the mega-mosque, but this was not due to some voices who appeared in the country and resisted this project," Murat said.
The project was first announced in 2015 and should have been started in the next three years, but its construction hasn't started yet. The project was criticized by a series of Romanian politicians. Dozens of individuals protested on the site of the future mosque claiming they were protecting the orthodox legacy of the country.
The mufti was asked if Turkish president Recep Erdogan cut the funding for the Bucharest mosque. Murat said that he wasn't told that there wasn't a desire to finance the project anymore.
The overall budget for the mosque stood at EUR 3 million, according to former foreign affairs minister Teodor Baconschi, who was quoted by Adevarul.ro.
MEP Cristian Preda suggested that there were two potential reasons for this move: Either the Turkish government ran out of money or the officials in Ankara dropped the project in an effort to gain Romania's support for Turkey's intention to join the EU.
Three years ago, the Romanian government donated a land of 11,000 square meters near the Romexpo Center in northern Bucharest for the construction. Aside from the mosque building, the development plans included a library, two classrooms for weekend school and a social canteen.  The mosque was designed to host up to 2,000 pilgrims.