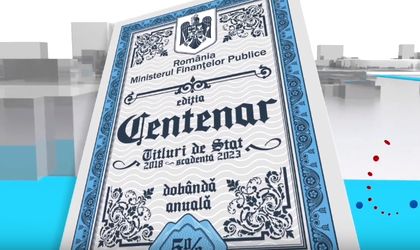 The Ministry of Finance said it launched the first bond issue as part of the Tezaur program – Centennial edition. The bond has a value of RON 1, with an interest rate of 5 percent and maturity of 5 years.
The bond auction is open between June 15 and July 6. The bonds can be acquired from the Treasury or any unit of the state-owned post operator Posta Romana.
The maximum investment limit for an individual stands at RON 100,000.
The minister of finance, Eugen Teodorovici, said that the bond issue offers a non-taxable interest rate that is above the one offered by bank deposits.
"The state guarantees 100 percent all the submitted amounts, the interest rates and it's fair to pay for bonds addressed to individuals in the same way you pay for the ones targeting the financial markets," said Teodorovici.
The state aims to raise around RON 4 billion this year through bond issues targeting individual investors.