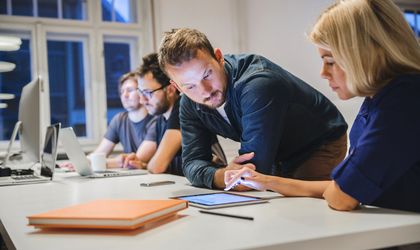 With the local software and IT services market set to register double-digit growth rates in the coming years, from the current level of EUR 3.6 billon, multinational and local firms expect new demand stemming from the Internet of Things trend, meaning that our electronic devices will reach an unprecedented level of inter-connection for which new software solutions will be needed.
Ovidiu Posirca
Close to 90,000 people were employed in the market last year and the constantly growing demand for IT services has also pushed up the wage expectations of senior professionals, who have become some sort of "stars" on the local labor market. Companies in Romania are paying their most senior staff to the tune of several thousand euros each month and these specialists are constantly receiving offers from other players on the market.
IT remains one of the few industries for which the government has been praised, due to its decision to exempt IT professionals from paying 16 percent income tax. Authorities consider the technology sector one of the country's strategic growth avenues in the coming years. IT generated around 5.6 percent of the country's GDP in 2015 and this figure is set to increase in the future, according to industry estimates.
"What we should not forget is that this sector, with its significant growth, is mainly based on software development teams working on foreign products. Intellectual property, the effective product, is usually not registered in Romania, so it will not generate a benefit for us. We will stay in the country with reduced taxes on wages, while the costs of IT specialists will go up, sometimes making the acquisition of such services prohibitive for local companies. I think that it is vital to stimulate entrepreneurship, the development but also the acquisition of software products for the local and foreign market," Alexandru Lapusan, CEO and co-founder of Romanian IT company Zitec, told BR.
The export of software and IT services is set to reach EUR 2.5 billion this year, which is more than double the value registered four years ago, according to a report commissioned by the Employers' Association of the Software and Services Industry (ANIS).
"We need both more and better qualified people to maintain current growth rates for the tech industry in Romania," Valerica Dragomir, executive director of ANIS, told BR.
However, Valentin Metzger, CEE delivery director at IT company Endava, thinks that the tax exemption for IT professionals should be maintained because it will encourage investments in the country.
"In addition, we would like to see an upgrade and simplification of this law so that the application base is extended to an increased number of roles in the IT domain," Metzger told BR.
IT firms looking to offer clear career prospects for fresh graduates
Aside from the constant competition on the market for skilled developers, the IT sector is aiming to recruit some of the best graduates by offering tailored training programs and a smooth transition from university to company life.
"Young Romanian IT professionals lack a clear sense of what their career path should be like. This is because they are not familiar with what it means to work inside a company and they don't know how to deal with complex projects. Fortunately, they are very talented and easily adaptable. Also, we can be really proud of having one of the best software engineering schools in the region, which each year gives us new generations of young professionals eager to learn more," Bogdan Pelinescu, managing director at IT company Luxoft Romania, told BR.
Metzger of Endava added that some of the challenges faced by large companies when hiring fresh graduates are related to the identification of the right specialization and ownership of their own actions.
All the IT companies that BR talked to said they had specialized training programs, which are becoming some sort of internal schools, in which employees are kept up to date with the latest tech trends and can receive training for new certifications.
"Most of the time, a package of benefits that focuses on the constant development of team members can make the difference between two employers, even at the expense of the salary or other material advantages," said Lapusan of Zitec.
The future of IoT in Romania
Although the development of projects under the smart cities and IoT concepts is still in the early stages in Romania, we will see more demand from companies doing such projects in the coming years, which will also mean more business for IT firms.
"I am convinced that in the next five years, everything related to the offline application of technology for the use of communities will gain ground, client companies will align themselves to the IoT trend and the suppliers of IT services will introduce services and innovative projects in their portfolios," said Lapusan of Zitec.
Pelinescu of Luxoft Romania added that IoT "has become imperative when it comes to delivering the integrated, easy to use and sustainable products and services demanded by clients worldwide."
Companies will also need in the future to analyze and extract value from the data in the IoT, machine learning/artificial intelligence fields, added Metzger of Endava.
Which city will become the next IT center?
Bucharest and Cluj-Napoca are currently the two cities with the most profitable companies developing software, but more investors are deciding to expand their operations in other locations such as Iasi and Brasov, for instance.
Of course, the large cities will continue to attract companies because they find it easier to recruit graduates from the university centers here. For instance, e-commerce giant Amazon said in October it was planning to hire 400 new people for its development and technology center in Iasi, where it already has 600 workers.
Elsewhere, German carmaker Porsche chose Cluj-Napoca over Bucharest for the development of an engineering center, citing the presence of two universities, the lively start-up scene and the dynamic IT and auto market, according to a recent interview Marius Mihailovici, location manager of the local subsidiary, gave to BR.
Executives in the local business and process outsourcing industry, which currently employs some 100,000 people, are also analyzing new smaller towns where they could they expand their operations. Galati, Targu Mures and Craiova are some of the cities which in recent years have attracted new investments, both in the IT and BPO sectors.
Competitive Romania – plan for IT and creative industries
Stimulating growth through the training of the workforce
Adaptation of the education system to market demand
Favorable fiscal framework for development
Romania's software and IT services market outlook 2016-2019
Year       Market size        Growth y/y
2016      EUR 3.6 bln         17%
2017      EUR 4.2 bln         16%
2018      EUR 4.8 bln         15%
2019      EUR 5.5 bln         14%
Source: Software and IT Services in Romania 2016 report commissioned by ANIS and conducted by Pierre Audoin Consultants (PAC)
 Top 20 software developers in Romania, based on net profit in 2015
Company            Turnover (RON/mln)      Net profit (RON/mln)    Average number of employees
Luxoft Professional Romania      222.3     18.4       1,326
Misys International Financial Systems    97.8       17.1       503
NTT Data Romania          110.5     13.9       438
Fortech 81.6       13.6        468
Cegeka Romania              60.9       13.1       214
Ericsson Telecommunications Romania 658.5     13           2,798
Siveco Romania 222.7     10.6       543
Crys Computers               62.9       9.9          265
ING Services Romania    34.6       9.7          100
Reea     26.3       9.4          235
Ness Romana    38.1        8.9          213
Arobs Transilvania Software       71.4       8.6          388
Pentalog Romania           83.6       8.5          440
Intergraph Computer Services   31.8       8.3          32
Advanced Technology Systems 11.1       7.6          34
Betfair Romania Development  92.9       7.1          306
1&1 Internet Development        57.1       7             255
Ixia         96.7       6.7          378
VM&F Advanced Outsourcing Software 20.2       6.5          1
Emag IT Research            29.6       6.4          209
Source: Trade Registry Office (ONRC)