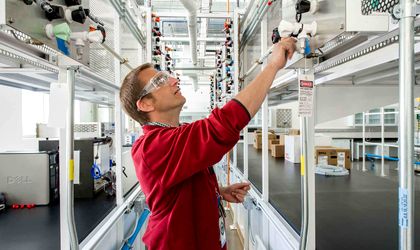 The authorities are simplifying the tax legislation and looking to increase funding for research and development in a bid to attract both foreign and domestic companies that can develop locally technologies and products that can be sold worldwide.
 Ovidiu Posirca
The R&D field has a special section in the Competitive Romania strategy document, which was presented recently by the government. It includes some measures that have already been mentioned by the private sector, such as the development of an ecosystem around Extreme Light Infrastructure – Nuclear Physics (ELI-NP), the close to EUR 300 million cross-border project that will host the most powerful lasers in the world. Some 100 researchers are already working on the project, which should be fully operational in 2018.
The country has already attracted key R&D investments from carmakers Renault and Porsche, as well as from car parts maker Continental. In addition, technology giant Siemens is doing R&D in three centers across Romania.
"The automotive industry is very well represented in our country, as most major automotive components providers have set up factories here. Considering the amount of R&D performed in general, in the automotive industry's search for safer and more efficient technologies for the future, focusing on the setting up of more automotive R&D centers in Romania seems like a logical next step. This also naturally builds on the pool of IT skills which is well developed in our country," Monica Pascu, tax manager at professional services KPMG, told BR.
 Lower taxes in place for researchers
The recent approval of a tax exemption on the 16 percent income tax levied on employees in the R&D field shows that the government is focusing on enhancing such investments, according to Manuel Costescu, departing head of InvestRomania, the government agency tasked with handling foreign direct investments projects in the country.
He told BR, "The government currently has under development a fund of EUR 100 million, focused on high-end industries with added value."
The former government official did not elaborate on this comment, but he stated that 5.6 percent of GDP is currently generated by the IT industry alone.
 Romania looking to advance in EU R&D expenditure ranking
According to players in the IT industry, although Romania has a lot of skilled engineers, there is a lack of product specialists that can identify market trends and bring new business.
"We are exporting a lot of IT, but we are doing it as man-hours, no matter if we are talking about smaller or multinational firms," Alexandru Lapusan, CEO and co-founder of local IT firm Zitec, told BR.
And then there is the ongoing problem of the lack of sufficient specialists, primarily in the IT segment.
Companies have been calling for years for closer cooperation with technical universities educating, for instance, software engineers. And the number of students enrolled in such schools is not that high compared to the EU average. For instance, in 2013, only 5.3 percent of tertiary education graduates were in science, mathematics and computing, while the EU average was 10.5 percent, according to Eurostat. Around 9,000 graduates in Romania got a university diploma in this sector. In engineering, manufacturing and construction, however, the country fares better.
Nonetheless, it should not be forgotten that Romania spent 0.39 percent of its GDP on R&D in 2013, while the EU 28 average was 2 percent. In 2014, Romania came last in the EU by this indicator. But the authorities have ambitious plans and the media reported this summer that the government was talking with carmakers about setting up a plant for electric vehicles, although for such high caliber investments, low taxes are only one small piece in companies' decision-making chain.
Competitive Romania – plan for R&D field
Stimulating research through eco-innovation and clean technologies
Financing R&D project with focus on ELI Valley Magurele
Creating a stimulating environment for private sector initiatives, which includes the marketing of innovation
 Number of units with R&D activity in Romania*
Public sector (including Higher Education)   286
Private sector (including NGOs)       487
*Source: INS – data as of 2014
27,535 – the total number of researchers in Romania in 2014, according to the INS