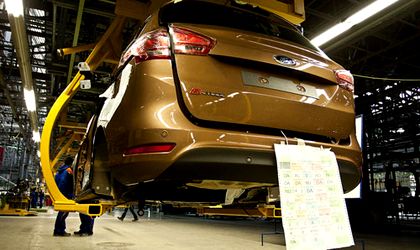 Ford Motor has made up its plans for 2019-2022 and there are several costs cuts, from stopping production of some vehicles to exit from unprofitable markets. One of the most important decisions is to stop selling Ford brand sedans in North America, a move that its nearly doubling its cost-cutting target by 2022 from the plan it laid out six months ago, according to Automotive News. Also, the giant automaker says it will either fix or eliminate unprofitable global operations.
North America is a market well known for its love for big vans or trucks, so it may not come as a big surprise the fact that ford will stop producing sedans. The officials said that they will keep only their current generations of sedans and the Mustang and Focus Active that are arriving in 2019. Models being cut are Fiesta, Fusion and Taurus and will be discontinued over the next few years as their lifecycle ends. Factories in Chicago and Mexico, where the models are produced, will replace production with other cars.
The automaker is developing new vehicles that give people the space and versatility of a utility vehicle and are aiming to have a very diverse passenger car business, not just the traditional sedans. They are going for pickups, SUVs and crossovers.
With the new plan, the company expects to achieve 8 percent global margin by 2020, two years sooner than planned. The costs will be cut in the next five years by USD 25.5 billion, a lot more than the USD 14 billion previous projected.
"We're going to feed the healthy parts of our business, and deal decisively with the parts that destroy value", said Jim Hackett in a conference call. In the first quarter the company reported a 9 percent increase in net income and a profit margin of 5.2 percent. In the same quarter of 2017 the company reported a margin of 6.4 percent.
The company may also cut investments in some regions over the globe or exit them completely if there is not an adequate return in the foreseeable future. This is the way General Motors decided to exit several countries, like Russia.
So far, officials didn't say if there will be more job cuts in order to achieve the additional USD 11.5 billion cost-cuts. Nearly half of the cuts would be in sales and marketing and the rest from engineering and product development, material costs and manufacturing.
In the first quarter Ford's net income increase by USD 144 million to USD 1.74 billion, while revenue grew by 7.4 percent to USD 42 billion.