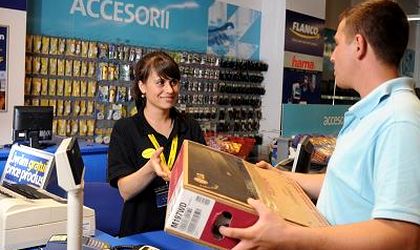 IT&C retailer Flanco announced it plans to open two new stores in December, located in the Family Center galleries in Botosani and Giurgiu. Also, the retailer has under negotiation other 15 contracts for opening stores in malls or soon to be opened retail compounds.
The two stores have on offer a wide range of electronic, IT products, and home appliances. Together they span on a sale space of 1,000 square meters. Flanco expects total sales of RON 10 million in the first year since construction. The investment that was necessary to open the stores, including stocks, was RON 2 million.
With these two new stores, the Flanco retail network will reach 72 outlets. Over the next year, Flanco plans to open 15 new stores, but the timing will depend on the launch of new retail compounds or how early negotiations with malls come to a close.
Next year, Flanco aims to reach a market share of 10 percent and a turnover of EUR 110 million.
Flanco recently came out of insolvency, being taken over by Asesoft, which now has the major share package in the company. The shareholding structure also includes three banks which are Flanco's creditors, UniCredit, BRD and ING, all of which hold a total of 40 percent of the shares.
Otilia Haraga