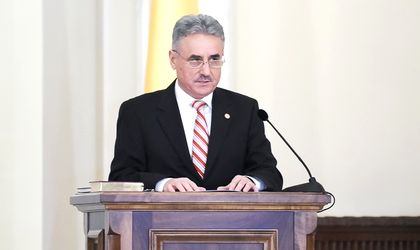 Romania's deficit will remain at below 3 percent of the GDP in 2017, the Ministry of Public Finance said in a press release. The difference between the forecasts of the European Commission and those made by Romanian officials are due to the implementation of different methodologies, the ministry argues.
"In the letter it sent, the European Commission shows its concern by a possible exceeding of the deficit target for 2017. According to the state budget approved by the Romanian Parliament, the Government took on a budget deficit below 3 percent, in agreement with the guidelines of the Maastricht treaty. The difference between the two approaches is the result of applying different forecast methods," the Ministry of Finance said in a press release.
The Romanian authorities reacted to the letter sent by European Commissioners Valdis Dombrovskis and Pierre Moscovici to the Romanian Ministry of Public Finance after the EC published reports on the economic and social situation in the member states.
The Commission's analysis is part of the procedure for the European Semester and includes an evaluation of gaps between member states. According to the reports, the European Commission identified economic gaps in 12 member states, which will continue to be monitored, while Romania only received a formal letter, which did not identify any economic imbalances.
"Although currently we have different opinions on the economic forecast for 2017, the Romanian Government is committed to implementing a governing program meant to bring sustainable development, investments in infrastructure and and creation of new jobs, while meeting the deficit target of below 3 percent of the GDP."
According to winter economic provisions published in mid-February by the European Commission, in Romania the public deficit is projected to go up to 3.6 percent of the GDP in 2017, compared to 3.2 percent as it had previously estimated and in 2018 will go up to 3.9 percent of the GDP.
"The 2017 budget adopted by the new Government includes several tax cuts (in particular the elimination of social contributions for small pensions), plus the increase of spending for pensions and wages in the public sector. Consequently, the government deficit is forecasted to go up to 3.9 percent of the GDP in 2018 due to the effects of the significant increase of pensions scheduled for July 2017," the European Commission warned at the time.
At the same time, the European Commission revised to 4.4 percent the forecasts on the economic growth of the Romanian economy, which will later slow down to 3.7 percent in 2018.