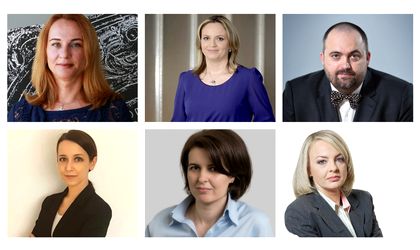 Professional services firm EY Romania has appointed three new partners and three new executive directors on October 1. Carmen Adamescu, Claudia Sofianu and Emanuel Bancila are the new partners in the executive teams, while Alice Ivanovici, Ariadna Oslobeanu and Simona Radu joined the audit team as executive directors.
"The new partners and executive directors are not only professionals with a wide experience, but also people who want to develop the teams that they are part of. I am glad to announce every year the promotions at executive level, reflecting the evolution of our team, " says Bogdan Ion, country managing partner at EY Romania.
Adamescu is the partner in Business Assistance department, having an experience of over 18 years in IT. She graduated from the Physics Faculty with a major in nuclear physics and got an MBA at Open University, UK and joined EY in 2012. Adamescu had before leading position in IBM for 13 years.
Sofianu joined EY in 2006 as consultant in emigration field and in July 2010 she became leader of the team specialized in services for individuals from the Fiscal and Juridical Assistance department in EY. In 2015 she became executive director. Sofianu graduated from the Law Faculty and has a master's degree in Business Community Law.
Bancila is the new partner in Fiscal Assistance and joined EY in 2013 as executive director to build the Fiscal Litigation Practice within the Radu and Associates law firm affiliated to the EY Romania. He has an experience of 20 years in this field and led the juridical departments of Japan Tobacco and Raiffeisen Bank.
Ivanovici is the new executive in the Audit department and started her career in 1998 at a local audit firm and she joined EY Romania in 2006. She graduated the Accounting and Informatics Management  Faculty and has a master degree in Audit and Business Management at Bucharest University of Economic Studies. She's a member of CAFR, CECCAR and ACCA.
Oslobeanu is executive director in the Audit department and joined the EY team in 2001, graduating from the Bucharest Economic Studies from Bucharest. the Finance, Insurance, Banks and Stock Exchange Faculty. She also has a master's degree in Financial and Foreign Currency Markets at the Doctoral School of Finance and Banking.
Radu is also executive director in Audit and started her career at New York in 2002 as auditor. She graduated from the Bernard Baruch University from New York, with a major in Business Administration. She continued her activity in Romania on Frauds investigations in different business segments. She joined EY in 2012.
Georgiana Bendre