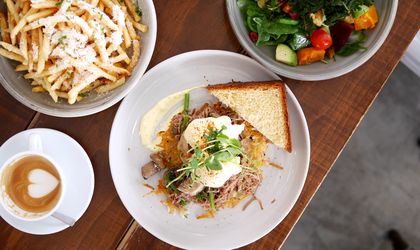 This month, BR's resident expat is bemused by a coffee shop's language policy and her interaction with state bureaucracy.
 Debbie Stowe
Last week, I was in one of downtown Bucharest's legion trendy-trendy coffee shops. You've probably been there. I won't name it, as it's a super place and I don't wish to appear to criticize it, but rather to point out an intriguing phenomenon.
This place ticked every fashionable box. The (male) waiters all had unimpeachable hipster beards. One customer was sketching. Another was wearing a pork pie hat. There was a dreadlocked cyclist. Someone brought in an impeccably groomed pedigree dog. A mobile phone user made mention of the weather in Mumbai and a visit to Las Vegas.
I, youthful thirty-something, felt a decade too old to be there. Needless to say, they unapologetically didn't serve decaf coffee.
But what caught my eye in this brave new café world was that the menu on the table was in English. Not in English because a staff member had detected my foreignness (not hard to do) and furnished me with the appropriate menu accordingly, but in English because they only have the menu in English. I asked.
It's common, when walking round, say, the Old Town these days, to see a lot of English signs and names. I get that if you want to open a chic place for The Yoof with the theme Sunday Bagels and Coffee, for example, that it would not be very cool to call it Duminică Covrigi și Cafea. I understand that for the sake of attracting the aspiring internationalists – and the actual foreigners – willing to pay RON 12 plus for a cappuccino, English branding works well.
But not even to have a Romanian translation behind the bar?
What would happen if someone who didn't speak English came in, I asked our waiter. "We'd explain the menu to them," he said. This is fair enough in theory, but menu translating never really works: by the time you're halfway through you've forgotten most of the earlier options.
While we were there, two older women – probably 60-somethings or upwards – came in, and my language antenna told me they were probably not English speakers. I was curious what would happen.
One nipped outside for a cigarette, while the other perused the menu at length. When the smoker returned, they talked for a while, then I heard the word "comanda" and they began to glance round at the waiters. To no avail: a sign at the counter said "Order here" – but I don't think they understood it. When we left, they were still at their table, without food or drink.
It's perhaps a bit weird for me – the customer whom the lack of a Romanian menu would least affect – to be bothered by this, but I was bothered.
I'm not one of those expats who resent the incursion of the modern, Western, capitalist world into Romania, who like things to stay backwards and foreign so we can have a more "authentic" experience here. I love that Bucharest now has fancy, contemporary cafes – and the coffee here is a lot better than in much of the UK.
But I dislike the idea of the old Romania – and perhaps older Romanians – being pushed out altogether. Sure, telegraph your stylish credentials with English. But remember that it's not (yet?) the national language.
(And if you could also start serving decaf, that would be much appreciated.)
Bucharest beats Britain for bureaucracy
In this issue of BR, I review the new Ken Loach movie, I, Daniel Blake. It's about a British man who gets trapped in a bewildering state bureaucracy. In desperation he paints his request on the wall of the job center.
A few days after seeing the film, I had cause to attend a local government office to complete some financial formalities. We were sent between about five different agencies until we finally reached the right one – generally hot, crowded rooms with queues of irritated people and old paper files stacked in towers in the public areas.
In the toilet of the correct office, which was happily less packed than the four wrong ones (the office, that is, not the toilet), a frustrated citizen had, Daniel Blake style, written, "Please process our VAT registrations more quickly" on the sign asking users not to put toilet paper in the toilet.
Loach should set his next bureaucracy-berating film in Romania: Daniel Blake had it easy.