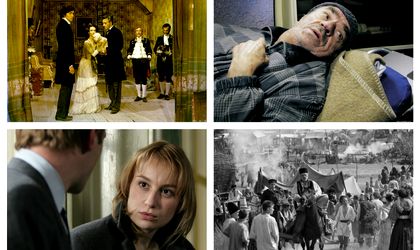 To mark BR's 18th anniversary issue, our film column brings you 18 iconic local movies.
Debbie Stowe
Forest of the Hanged (1964)
The late Liviu Ciulei directed this drama about war and nationalism, the first Romanian film to come to international prominence.
 The Reenactment (1968)
Young miscreants are made to restage a brawl for a public service film in Lucian Pintilie's mockumentary.
 Michael the Brave/The Last Crusade (1971)
With a running time of close to three and a half hours, the late Sergiu Nicolaescu's historical epic focuses on the Wallachian ruler's mission to reunite Romanian's principalities.
Felix and Otilia (1972)
Love and money are up against each other in the late Iulian Mihu's movie, in which impoverished medical student Felix falls for Otilia.
The Immortals (1974)
Picking up after the death of Michael the Brave, Nicolaescu continued his historical filmmaking with this tale of a band of the Prince of Wallachia's soldiers who wander Europe on their way home.
Microphone Test (1980)
The relationship between two TV network employees, reporter Luiza and her cameraman boyfriend Nelu, comes under strain in Mircea Daneliuc's drama.
Carnival Scenes/Why Are the Bells Ringing, Mitica? (1981)
Turn-of-the-century playwright Ion Luca Caragiale provides the source material for Pintilie's comedy, which was banned under communism.
 The Cruise (1981)
Daneliuc wrote, directed and starred in this drama about young workers rewarded for their performance with a Danube cruise.
The Moromete Family (1987)
Heavyweight Romanian actors Victor Rebengiuc and Luminita Gheorghiu star in Stere Gulea's drama, based on a novel by Marin Preda.
 The Oak (1992)
After her father's death, a schoolteacher embarks upon a journey, both literal and spiritual. Pintilie's movie has comic moments, despites its dark episodes.
Sundays on Leave (1993)
Nae Caranfil's tripartite story covers the same events from the differing viewpoints of a student, a soldier and a theater actor.
Stuff and Dough (2001)
In Cristi Puiu's directorial debut, a struggling young man from Constanta finds himself out of his depth when he embarks on a dubious errand.
 Philanthropy (2002)
A dorky schoolteacher and wannabe writer falls in with prosperous conmen in Caranfil's black comedy.
The Death of Mr. Lazarescu (2005)
Puiu's bleakly comic look at Romania's bureaucratic health system sees an ailing pensioner sent from pillar to post.
 12:08 East of Bucharest (2006)
Corneliu Porumboiu's acclaimed exploration of the Romanian Revolution earned the director the Caméra d'Or Prize (for best debut film).
 4 Months, 3 Weeks and 2 Days (2007)
Cristian Mungiu won the Palme d'Or and wowed international critics with this devastating abortion drama.
 Aferim! (2015)
Western-influenced, Radu Jude's drama, set in 19th century Wallachia, sees a boyar set a policeman on the trail of a gypsy slave involved with his wife.
 Sieranevada (2016)
Puiu returns to familiar themes, as a middle-aged doctor meets with family members to commemorate his recently deceased father.
With thanks to film writer Alin Ludu Dumbrava (aldmovieland.blogspot.com) for his help with the selection.