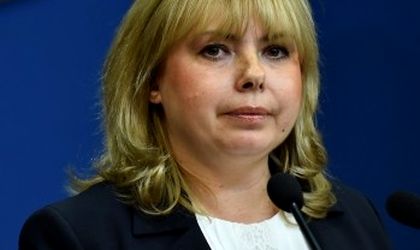 In Romania the budget deficit is 2.59 of the GDP, compared to 2.8 GDP, the target that we set at the beginning of the year, former Minister of Finance Anca Dragu said.
"This means that we do not have a RON 10 billion gap. Should there have been a gap, it would have translated in an extra deficit of around 1.3 percent in the GDP and therefore we would have closed the year with 4.1 percent of the GDP."
"Let's not forget then the fact that the country's budgets are checked and monitored by the European Commission. Even more so the Romanian budget, as we are a state that is under monitoring post-program by 2018," Dragu told Hotnews.
"The budget is an income and expenditures forecast as well as the way they are achieved. At the end you draw the line and see whether you have a deficit or surplus. If you closed the year with a deficit, the public debt goes up, and if there is a surplus, the public debt goes down. The coming year, you start over. The budget is an annual construct. The moment a fiscal year ends, the budget goes to zero and starts with zero in the coming year," Anca Dragu said.
"Plus, what we see in the budget is a help given to the current government through the fact that we reimbursed in December a double VAT compared to the average – around EUR 2.1 billion. I just saw that the budget is under forecast. I still believe that it is a confusion and it seems suspicious that these talks are thrown on the public space. Probably out of a need to justify, eventually, an EUR 10 billion of future expenses," the former Minister of Finance said. 
Former PM Dacian Ciolos reacted to Dragnea's allegations on Facebook on Monday morning, saying: "Faced probably with a few numbers and realities of the Romanian economy that I've kept mentioning for a few months, aware that he does not know how to manage to fulfill the promises made during the electoral campaigns from a financial point of view, Mr. Liviu Dragnea does a trick and says he could have found, I quote "a ten billion gap in the budget," Ciolos wrote on his Facebook account.
Ciolos also said that the accusations fall under modus operandi "of the Social Democratic Party (PSD) also during the time we governed: the technocrats are to blame. PSD covers its failures and false promises with misinformations and propaganda."
On Monday, PSD head Liviu Dragnea announced the creation of an inquest parliamentary commission to summon former PM Dacian Ciolos and former Finance Minister was "very likely."
Georgeta Gheorghe