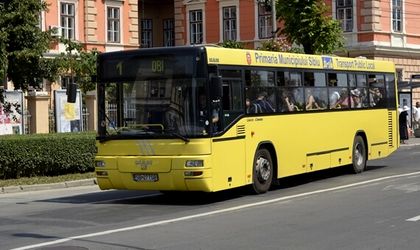 Public transport vehicles in Sibiu now allow payment of fares using contactless payment cards, as a result of a partnership between the Romanian Commercial Bank (BCR), Global Payments and Tursib in collaboration with Telekom Romania.
Starting this week, all public transport managed by the local transport authority Tursib will be fitted with two payment machines which will allow any traveller to pay with a Mastercard or Visa contactless card, regardless of the bank that issued it.
Sibiu is the first Romanian city that introduces this type of system that can be used with any Mastercard/Visa contactless card.
Dana Demetrian, vicepresident of Retail & Private Banking at BCR, said: "The introduction of this solution is natural, since over 50 percent of the card market is contactless, and contactless payments have become a regular thing among card users. These payments are expanding towards other services we all use in our daily lives, such as public transport. We are glad that we found this opportunity in Sibiu and we want to expand our system to other large cities as well. We are ready to implement it. We will continue to invest in the integrated Smart City concept and we are certain that, together with our partners Global Payments, Mastercard, Visa and Telekom Romania, we can improve the lives of Romanians through advanced payment solutions."
Gabriel Ghita, VP, Business Development, Mastercard CEE: "Mastercard, as a leader in technology, will continue to collaborate with both local authorities and the private sector to discover and implement ways of improving the lives of citizens and to identify smart solution to optimise administrative activities."
Catalin Cretu, Visa general manager for Romania, Croatia, Malta and Slovenia: "This contactless payment solution will make the travelling experience quicker, simpler and safer for everyone, including for foreign tourists who visit Sibiu. Visa constantly invests in developing new solutions to accelerate and improve the payment experience in public transport at an international level, such as the Visa Global Transport Solutions."