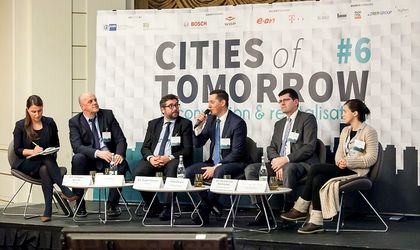 The Romanian-German Chamber of Commerce and Industry (AHK Romania) organised the sixth edition of the Cities of Tomorrow conference on Tuesday, February 27, at the JW Marriott Grand Hotel in Bucharest.
The event gathered over 300 participants from all over the country and from abroad, including architects, urbanists, representatives of the business sector and of the public sector, once again confirming that the event has an international character, dedicated to the importance of urban and regional development. The central theme of this year was urban regeneration.
The first part of the event was centred around a presentation of the governance levels regarding urban planning in Germany and the way planning resources are allocated. The major power in Germany is at the local level, and this is ideal since every place has its specific characteristics. Local authorities have the resources necessary to give more attention to disadvantaged urban areas. The urban development policy in Germany explicitly requires a good collaboration between local and central authorities.
An example of successful urban planning was offered by Dr Georg Pammer, General Manager of Aspern City Smart Research, who showed how an old, abandoned airport in Vienna was transformed to become the greenest and smartest neighbourhood of Vienna.
Like Vienna and many other European cities, Romanian cities are confronting with the challenges of urban regeneration. This is a continuous, long and difficult process, and the trends and changes through which a city can become a "magnet" were presented by Marcel Heroiu, Urban Development Specialist at the World Bank, using the study "Magnet Cities" as a starting point. The study shows that Bucharest and the other 40 county capitals generate 90 percent of Romania's economic output and that the functional urban area is therefore very important for economic development.
Tatian Diaconu, Immochan Romania CEO, highlighted the importance of urban vision for investors: "You can bring as much concrete and asphalt to a city as you like. If you can't create a connection with the community, you won't be able to make a business sustainable."
The second part of the event was dedicated to finding concrete, viable solutions for eight major themes in regional development: energetic efficiency and management, EU funding, mobility, the circular economy, tourism, reconversion and revitalisation, construction law, city governance/digitalisation/urban information platform. Each theme was treated individually by roundtables with specialists in each field. The best solutions were voted by the participants and awarded prizes during the ceremony at the end of the event.