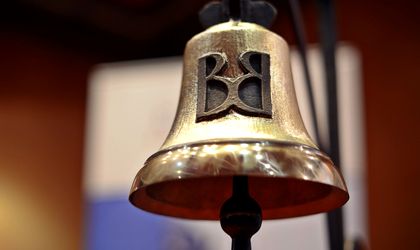 Bucharest Stock Exchange (BVB) registered decreases of over 2 percent on all indices at the transactioning session from Tuesday, the same as the European stock exchanges.
The reference index BET, which shows the evolution of the most 13 liquid shares, decreased by 2.13 percent to 8.007.41 points.
The BET-Plus index, which shows the evolution of the most 37 liquid shares, dropped by 2.15 percent, BET-FI index of SIF registered a decrease by 2.37 percent and BET-NG, the index of the 10 companies in energy and utilities sector, dropped by 2.07 percent.
The blue-chip expanded index BET-XT, of the 25 most liquid shares, depreciated by 2.33 percent and the BET-BK index, the yield index of the investments funds, depreciated by 2.56 percent.
The transactions from Monday at BVB exceeded RON 83.76 million (EUR 18.04 million).
The most transacted shares were Banca Transilvania shares (RON 19.37 million), BRD – Groupe Societe Generale (RON 13.33 million) and Romgaz (RON 12.77 million).
The highest decreases were registered by Electroaparataj shares, which depreciated by 14.52 percent, the industrial group Electrocontact (-14.29 percent) and Petrolexportimport (-13.04 percent).
On the other hand, the highest increases were registered by Aerostar (3.31 percent), Ropharma (3,3 percent) and Turism Felix (1,8 percent).