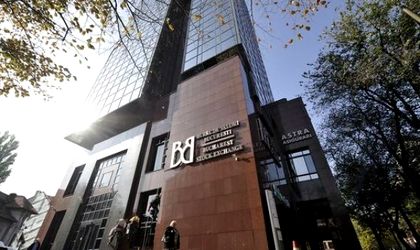 The Bucharest Stock Exchange (BVB) had a better evolution than markets in the region, overcoming relatively quickly the impact of the outcome of the June 23 referendum. The BET Total Return recorded an ascending trend in June, going up by 4.26 percent.
The BET-TR index reflects the evolution of the most liquid ten shares listed on the BVB, included in the BET index, as well as dividends distributed to shareholders by these companies. BET, the main BVB index, increased by 1.78 percent.
In June shares turnover stood at RON 719.1 million (EUR 158.9 million), up by over 8 pct compared to May, when shares traded for RON 664.2 million (EUR 147. million). In the first half of 2016, the total shares transaction stood at RON 4243.1 million, up by 5.6 percent year-on-year.
In June the average daily equity trading stood at RON 34.2 million (EUR 7.5 million) to RON 31.6 million (EUR 7 million) in May. Since beginning 2016, the average daily equity trading on the Bucharest Stock Exchange stood at RON 33.4 million, up by 3.1 year-on-year.
In June 2016 the investors traded shares, fund units, bonds and structured products totaling over RON 778.8 million (EUR 172.1 million).
In June 2016 the market capitalization of all companies listed on the BVB stood at RON 120.2 billion (EUR 26.5 bn), with market capitalization of Romanian companies repsesentingRON 67.8 billion (14.9 bn), up from the previous month.
The five most traded shares in June 2016 were Banca Transilvania (TLV), Romgaz (SNG), Fondul Proprietatea (FP), Transgaz (TGN) and Transelectrica (TEL), with a total value of over RON 560 million.
Georgeta Gheorghe