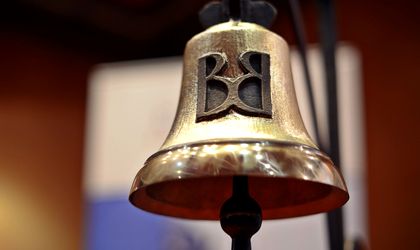 The total value of transactions of last week's transactions of the Bucharest Stock Exchange (BVB) reached RON 253.54 million, out of which RON 245.36 million were shares transactions, up by 32.55 percent compared to the previous week, according to an analysis of Puls Capital.
The most important exchanges were made on Banca Transilvania shares, valued at RON 75.13 million, Electrica, valued at RON 58.64 million and BRD-SG, worth RON 28.56 million.
The transactions with structural products amounted to RON 7.22 million, the bonds transactions amounted to RON 630,000 and the fund units amounted to RON 330,000. On the deal market were made exchanges worth RON 39.25 million.
The last week the stock indexes registered mixed evolutions, between 1.35 percent on BET-FI indexes and 1.17 percent on BET-NG index.
In the mentioned period 27 shares had positive evolutions, eight has stable evolutions and 42 had negative evolutions.
The highest increases were registered on OIL Terminal shares, Turbomecanica and Sinteza shares, of 26.81 percent. 19.12 percent and 11.11 percent.
The highest drop was registered on Romcab of 55.34 percent, followed by Cemacon and Carbochim shares, of 10.56  percent, respectively 10.18 percent.
Georgiana Bendre