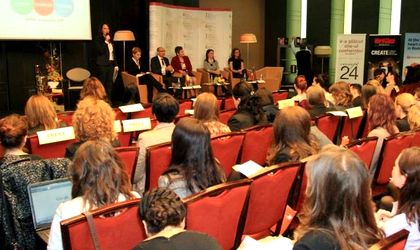 Business specialists will meet at the second edition of the Women in Business International Conference on October 20, at Sheraton Hotel, to debate the global trends in business, innovation, branding and digital.
The aim of the Women in Business International Conference is to reunite entrepreneurs, specialists and freelancers to facilitate access to a flow of specialized and topical information so as to search together for solutions for sustainable businesses.
"Since the Women in Business organization has been active for 7 years and after hundreds of events organized, I decided to highlight common topics for the local and international business market on which to debate: the need to be innovative on an apparently saturated market, the need for financial education, start-up development, the effort to distinguish yourself through a strong brand and accelerated digitalization. We set out to bring specialized speakers from various fields to share their experience and find together solutions for a competitive and balanced work environment," said Alice Botnarenco, entrepreneur and founder of Women in Business.
The confirmed speakers are Mirella Visser- managing director Centre for Inclusive Leadership, the Netherlands, Mihaela Radulescu – brand consultant at Innerout founder, Romania, Irina Alexandru – co-founder & program director at Vector Watch, Romania, Violeta Luca – Marketing & Operations director at Microsoft Romania, Florin Grozea – artist, TV presenter, online entrepreneur, Hit Yourself Consulting founder, Romania, Sonia Bate – founder and general manager of EDIT Development company, Great Britain, Alice Botnarenco –ALISIA ENCO owner, Women in Business founder, Romania, Mihai Chiratcu – trainer and business consultant, Romania, Claudia Chiru –SAGA Kid & Asociatia SAGA Founder, primary education teacher, Romania, Yvonne Thompson – author of "7 Traits of Highly Successful Women on Boards" and manager of WBLN & ACBN, Great Britain, Liviu Taloi – senior consultant in e-commerce & online marketing, co-founder ECOMpedia, Romania, Mark Walton – owner & CEO, Brici Entertainment, Rhapsody Films, Great Britain, Aliz Kosza – business strategist and mentor, Rodica Lupu – Loop Operations founder, Romania, Angela Gladei – CEO Total Leasing and finance and AFAM member, Moldova, Roxana Magopet – FAN Courier Marketing and PR manager, Romania, Raluca Radu – country manager Answear Romania, MTH Digital owner and GPeC Co-organizer, Romania.
The topics will be split into 4 panels in which participants will find answers to the most important professional challenges, ending with a Q&A session so as the participants can interact with speakers and find the answers that interest them.
Georgiana Bendre