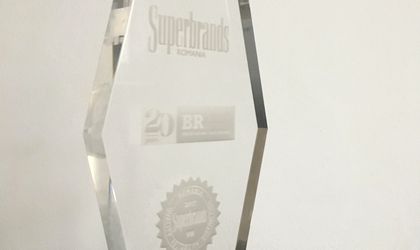 Business Review, Romania's leading English-language business magazine, was named Superbrand in the Business Brands category during the eighth Superbrands Romania Gala that took place in Bucharest.
The magazine was among the 30 companies that received the trophies. Business Review got the award in the year it celebrates 20 years on the local market.
Business Review is more than a business magazine; it is an integrated business community which offers several smart opportunities for its readership and stakeholders.
The publication provides the latest news coverage along with hard-hitting features, special interest columns, analyses and industry reports, keeping its readership up-to-date with the hottest and most accurate information from the Romanian business scene.
Business Review's success would not have been possible without a set of brand values that underpin every activity the magazine undertakes, equally affecting everyone from internal to external stakeholders. Pride in what we do ensures our unrelenting dedication to integrity and objectivity which are pillars of the BR Brand. Drive and Curiosity establish our determination to evolve, stay focused and lead by example.  Making sure we provide strategic information, community-building events and an integrated communication platform keeps us All on the same wavelength.
"Despite the challenges of the past few years, the brands that receive Superbrand status this year emphasize the fact that Romanians are more attentive to the quality of life than 10 years ago. The focus on product quality, the transition from consumerism to well-being, the respect for the community proven by brands, their accountability and sustainability are such values ​​that consumers take into consideration when designating Superbrand-status brands in Romania. We believe that the winning Superbrands of the following years will seek creative resources and inspiration for development precisely in this very personal relationship with values ​​and quality of life", said Raluca Costache, chief executive & managing director of Superbrands Programmes Romania.
During the event, Centennial brands were celebrated symbolically in the light of the 100th anniversary of the Great Union. The event included three Honorary Recognition moments.
Superbrands Romania is represented on the local market by the strategic communication agency BDR Associates.