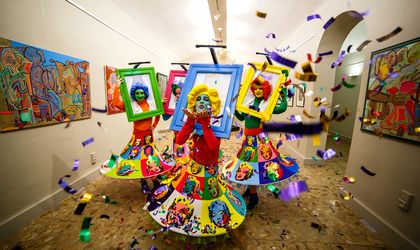 B-Fit in the Street!, Bucharest's international theatre festival, is to kick off on Thursday. Come June 9, Bucharest's center will become an open-air stage hosting 21 performances by international theatre companies from 9 countries.
The event, currently in its eighth edition, will be held on the streets of Bucharest's old center, as well as the nearby University Square and other locations along Calea Victoriei, one of the capital's main arteries. Expect dancers, acrobats and gigantic papier-mâché figures, that will mingle with the crowds and, come the evening, spectacular color and light shows.
The festival programme includes circus, comedy, dance, street music performances as well as costume parades. The local scene will be represented by the Bucharest-based Masca Theatre, while international guests such as France and the Netherlands are expected to put on elaborate, large-scale shows.
B-Fit in the Street! is organised by the Cultural Centre of the Municipality of Bucharest (ARCUB). The first edition of the festival was held in 2008 and, in the words of Mihaela Paun, ARCUB director, it started as a challenge aimed at changing, for a few days, the way Bucharest inhabitants feel about their city.
Starting last year, the B-Fit in the Street! festival was included in the series of events that promote Bucharest's bid to become the 2021 European Capital of Culture, a process aimed at encouraging the capital's inhabitants to get actively involved in the cultural life of the city.
Access to all B-Fit in the Street! performances is free.
Georgeta Gheorghe