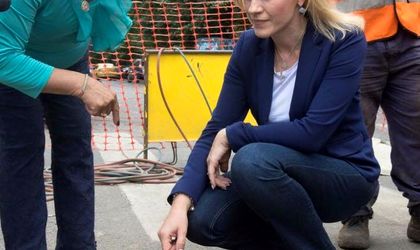 Bucharest City Hall might return to its old headquarters at Blvd. Regina Elisabeta No. 47, currently undergoing consolidation work. Upon visiting the site, newly-elected mayor Gabriela Firea stated the move could be completed by October. The City Hall is currently housed in a rented building at Splaiul Independenței 291-293. According to reports, both the rent paid by the City Hall and renovation costs are above market price.
"I went to the site to see to what extent the deadline of the rehabilitation process of the City Hall HQ in Blvd. Elisabeta. There has already been a one-year delay caused by the fact that the approvals required by the certificate of urbanism were not issued in a timely manner. Unfortunately, the City Hall paid an exorbitant rent for the building where it is housed now. I will not accept another delay under any circumstances," Firea stated in a press release issued by the Social Democratic Party (PSD).
According to estimates by the local press, the total rent paid by the Bucharest City Hall for in its current location by beginning 2014 amounted to EUR 5 million, almost half the value of the old headquarters.
The City Hall headquarters have been undergoing a total seismic rehabilitation and the modernization and restoration process is nearing completion. Works started in 2010 with a EUR 10 million budget and the initial deadline was set for 2013. However, subsequently, the budget was adjusted to EUR 30 million and the latest deadline for the completion of works on the building is August 31.
A listed building, the Bucharest City Hall HQ was designed by architect Petre Antonescu and built between 1906-1922. The building has four floors and also features a basement, ground floor, on a total surface of 22,000 sq. meters. According to reports, total renovation costs per sq. meter amounted to EUR 1,100, which is above market price.