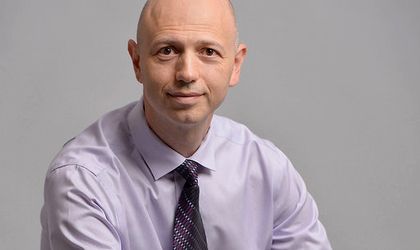 Veteran entrepreneur and investor Radu Georgescu continued to provide early stage support for startups last year and redesigned his group, founded 20 years ago as Gecad Ventures, in a move designed to underline the investment component of the IT conglomerate.
And Georgescu was kept busy last year. Gecad Ventures exited Vector Watch, the startup founded by Andrei Pitis, in which Georgescu made an initial seed investment of EUR 500,000 followed by additional financing in the next few years of USD 2 million.
On the subject of Vector, Georgescu said in early 2016 that the startup shouldn't be perceived as a watchmaker but as the creator of "the ultimate system for wearables". He went on to say that he had known Pitis for a long time, a factor which also convinced him to provide early financing for Vector, which was taken over by American wearables maker FitBit last year.
The group also invested in Smart Bill, the Romanian provider of billing solutions and SaaS services, alongside Catalyst Romania. Smart Bill has been advised by Gecad since 2013 and the EUR 1 million in fresh financing will be used for company development.
In late 2016, Georgescu's fund provided a seed investment to TypingDNA, a Romanian behavioral biometrics cyber security startup based on artificial intelligence. The investment fund also led a USD 1.5 million seed round investment with Playfar Capital into Gluru, a smart task assistant that uses artificial intelligence to predict the actions of users.
Gecad also put EUR 500,000 into SymphoPay, a Romanian FinTech startup that brings innovative solutions for POS payments in stores.
The entrepreneur has been described in an interview for start-up.ro as more of a strategist and not a president as he gradually removes himself from the main management role when the firms he founds reach a certain level of development.
On the startup promotion platforms, Georgescu says that he is investing in companies with high growth potential with the ability to innovate and deliver new ideas and products in their markets. The entrepreneur explains that he is looking primarily at firms focused on software and hi-tech companies, including security software, cloud technologies, e-Commerce and payment methods.
Run a company, sell it
Georgescu is among the few entrepreneurs in Romania that have been able to attract global investors to their companies right from the early days. For instance, he sold RAV Antivirus, which he founded in 1994, to IT giant Microsoft nine years later, at a time when the Romanian tech scene was not that visible.
Seven years later he sold ePayment, which was later rebranded as PayU, to South African internet and media group Naspers. Gecad was also an early backer of Smartree, the HR outsourcing and payroll firm that was acquired by Enterprise Investors in 2010 and sold six years later.
Georgescu also got involved in the bitcoin market, but quickly exited Coinzone, which provided a payment gateway and merchant solutions for cryptocurrencies. The entrepreneur had provided USD 1.4 million in seed capital to the company.
Next, Georgescu sold Avangate, a global e-commerce platform, to private equity firm Francisco Partners. The Gecad head also sold Axigen, a Windows & Linux mail server, to a group of Romanian investors in 2014.