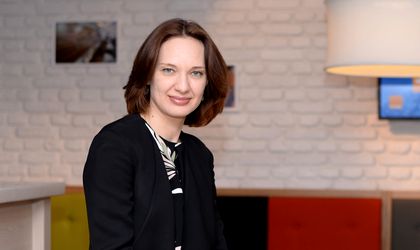 After seven years as CEO of Orange's subsidiary in the Republic of Moldova, Liudmila Climoc was appointed to the same role at the helm of the French telecom giant's Romanian operations in May 2016.
Liudmila Climoc has been instrumental in helping Orange Romania reach a significant milestone with the national launch of its Home service in September 2016 and completing its existing portfolio of mobile voice and internet services, satellite and OTT television with broadband fixed services and digital TV through fiber optics. The company has also launched its own mobile payment system called Orange Money, which can also be used for cash transfers.
In the first nine months of last year, Orange Romania saw its turnover go up by 4.3 percent year-on-year to EUR 727 million. The telecom operator had close to 10.2 million customers as of September 30 2016, having added 300,000 since the previous quarter.
The mobile player has seen a surge in 4G mobile traffic and its number of clients for 4G smartphones stood at 1.9 million.
Under the mandate of Liudmila Climoc, who has 19 years' experience in the telecom sector, Orange Romania has expanded its 4G network coverage in 2,200 localities.
Orange's 4G network covers over 6,700 localities and the service is also available in all the subway stations in Bucharest. In addition, the telecom operator has launched locally VoLTE and WiFi Calling (currently in testing phase), as part of an international expansion program. The Voice over LTE technology facilitates dramatically reduced connection times (falling from approximately eight to two seconds) and improved simultaneous use of voice and high speed data, in particular. With the launch of WiFi Calling, Orange is extending and complementing its mobile network to offer users enhanced indoor coverage.
In late 2016, Orange Romania was named as the leading network for the performance of mobile internet and voice services by LCC International, the independent organization with over 30 years' worth of experience in wireless services.
The operator said in early 2017 that thanks to the investments carried out in 2016, its 4G network covered 97 percent of urban areas and 81 percent of the country's total population.
Overseeing smart developments
At present, Liudmila Climoc is the only female CEO in the local telecom sector, a dinamic market characterized by fierce competition and massive investment requirements.
The investments in developing the most extensive 4G network also aim to reduce the digital gap and enable digital transformation much necessary for connecting the clients not only to their favorite content, but also to all opportunities.
Orange is also working on the first smart city pilot project, currently under development in Alba Iulia, western Romania. The company will offer a wide array of services that will be tested in the city, such as a solution for smart public transit, one for smart public lightning and secure internet access for all components of the smart city.
Last year Orange also launched solutions for smart homes, through which clients can receive real time notifications on their smart devices from sensors placed in their homes in the event of incidents such as floods or break-ins.
"We talk about smart cities, about Internet of Things, about big data and the aggregator and the common denominator is the network. Orange is committed to offering its customers, both business and end consumers, the connectivity to reach their goals in this transformation process. In this equation of digitalization, Orange is an enabler, integrating solutions to anticipate and answer to the ever growing needs of connectivity. In a growing digitalized world, Orange's objectives are simple – to lead the digital transformation and accompany its customers through digital care, interactive apps, digital communities," said Liudmila Climoc.
Orange Romania had 10.17 million customers at the end of September 30 2016, an increase of 300,000 compared to the previous quarter, as the subscriber base grew by 4.8 percent. At the end of Q3 2016, the operator had 1.9 million clients using 4G services.