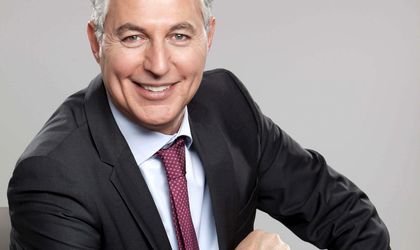 With David Hay at its helm, AFI Europe Romania has grown to the point where it could this year sell its office project in Cotroceni, in what has the potential to become the largest office transaction on the local market.
David Hay took over as CEO of AFI Europe Romania in 2011 after having previously worked in the Czech Republic, the US and Nigeria. He has a professional background of over 25 years in real estate and has been working for the Israeli real estate company since 2006.
Under his leadership the developer has been constantly expanding on the local market, developing AFI Park, a 70,000 sqm office project next to its flagship property on the local market, AFI Cotroceni, building a second shopping mall in Ploiesti and now kickstarting several new projects.
Hay, who has supervised the development and completion of AFI Park, could now see it sold in what could become the largest office transaction to date in Romania. Last August, news broke that the company was planning to sell three of the office buildings that are part of its AFI Park project in Bucharest for EUR 92.5 million and at a 7.75 percent yield. Yet by December, it had been made public that the entire office park was up for sale. At that time it was announced that Lev Leviev, the businessman behind Africa Israel Investments, had signed a non-binding letter of intent to sell AFI Park, according to a Tel Aviv Stock Exchange report. The developer then evaluated the office project at around EUR 164.4 million, according to media reports.
Should the deal be closed for around EUR 150 million, it would be the largest office transaction ever sealed on the local market. AFI Park has a 70,000 sqm GLA and its occupancy rate was close to 100 percent last September, according to company data.
With Hay at its helm, AFI Europe Romania has seen its revenues go up over the past few years. In the first nine months of 2016 alone, the developer reported a net operating income (NOI) from its income-producing assets of more than EUR 34 million, which was up 14 percent compared to the same period a year ago.
And under his leadership, the developer has plans to further expand. At the end of last year, AFI Europe Romania started the construction of its second office project in Bucharest. AFI Tech Park will be a 50,000 sqm gross leasable area (GLA) business park located close to the J.W. Marriott Hotel and the Romanian Parliament. The first phase of the project, comprising 20,000 sqm GLA, will be delivered in the first quarter of next year, according to company data.
The developer says it is currently also planning a 45,000 sqm GLA shopping mall and a 20,000 sqm GLA office project in Brasov, central Romania. "In the near future", it also wants to develop a retail park on an 80 ha plot of land it owns in Arad, western Romania, and a mixed-use project on a 148 ha plot it has in the Bucurestii Noi neighborhood of Bucharest.