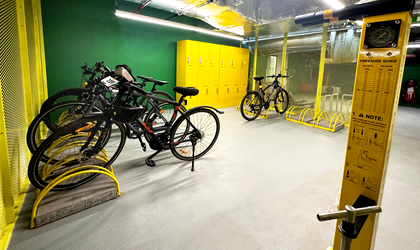 America House is now the first office building in Romania to be awarded the Gold ActiveScore Certification based on its current travel facilities for cyclists and scooters users.
ActiveScore is the world's leading system for assessing and certifying buildings travel friendliness by using clear and scientific methodologies established by experts from the cycling and travel industry and urban planners with the aim to make buildings betters for cyclists and as a result, better for a greener world.
The rating parameters include the number and looks and feels of bikes racks, security measures, changing rooms, number of lockers and showers dedicated for bikers and services on offer for bikers such as bike repair station, arrangement with bikes repair shops and laundry services.
"We want to encourage the use of alternative forms of transport, which has many benefits for the occupants of the building, for their health and wellbeing, as well as for the environment. Obtaining the Gold ActiveScore Certification is a great achievement for us, after achieving BREEAM in use Outstanding certification at the beginning of the year. We will continue this path setting the market standards in Romania for promoting healthier lifestyle for office tenants, reducing emissions, and creating greener real estate projects", commented David Hay, founder, and CEO of ADD Value Management SRL.
The advantages of having a building cycling club
America House has established a community Cycling Club open to the employees working in the building who share a passion for cycling and enjoy riding together, to find either a commuting partner or an exercise one when using the bike/scooter. There are many advantages of joining a cycling club, such as health, social and environmental benefits.
Cycling is a great way to improve people's physical fitness and well-being. It can help the office' workers to lose weight, strengthen their muscles, boost their immune system, lower their blood pressure, and reduce their risk of chronic diseases. Cycling can also improve mental health by relieving stress, anxiety, and depression.
Cycling is an eco-friendly mode of transportation to the office, that reduces air pollution, greenhouse gas emissions, and noise. By joining a cyclist's club, the employers of the tenantscan contribute to the protection of the environment and promote a sustainable lifestyle.