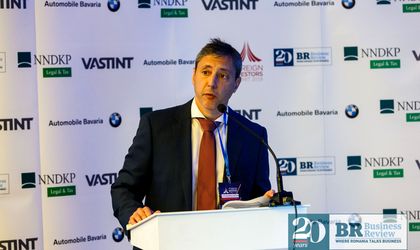 Alejandro Hajdenberg, resident representative for Romania & Bulgaria at the International Monetary Fund (IMF), suggested that Romania doesn't have any more room for additional fiscal easing, which would mean another reduction of taxes.
Among the recommendations of the IMF representative was the increase of tax collection rate by streamlining the process. He added that Romania had the largest fiscal relaxation in Europe over the past 3 year, adding that this process can't continue in the same rate.
"We estimate that by improving efficiency (on tax collection e.n.), revenues could improve by 2.5 pct of GDP," said Hajdenberg during the first day of the Foreign Investors' Summit organized by Business Review.
The IMF official said that in the first half of 2018, the economic growth has slowed and reached 4 pct in first two quarters. He said the signs of an overheating economy are seen in the labor market, the increase of the inflation and the widening of the current account and trade deficits.
"We've also seen a large decline in tax revenues – this reflects significant cuts in taxes, especially VAT but also others, also reflects inefficiency in collection by the administration," said the IMF official.
In terms of domestic risks of the economy for 2019, the IMF official said that Romania might overshoot its budget deficit target of 3 percent and a similar situation is expected for this year as well.
"We emphasize the need for predictability of policies and increasing the medium-term orientation of policies – so private sector can make consumption, saving and investment decisions.