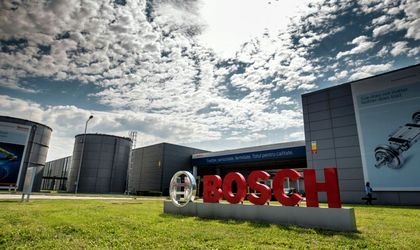 Bosch started the construction of a new office building in Blaj that will be ready in the faall of 2019 and it will take an over EUR 7 million investment. The new structure is meant to cover the needs of the company after extending the production capacity in the Blaj factory.
"Bosch has expanded its production business to Blaj in recent years, so we decided to build a new building to support this growth and provide enough space for new projects that will contribute to the long-term development of the plant", says Dirk Arnold, general manager of the Bosch production unit in Blaj.
The company will invest over EUR 7 million in the new building, which will run on an area of ​​5,700 square meters and two levels. It will host offices for approximately 250 employees, as well as most of the development laboratories currently inside the factory, starting in autumn 2019.
At Blaj, Bosch opened its first line of linear engineering components in Romania in 2007. Subsequently, the site expanded with the opening of new production units for mobility solutions through the Chassis Systems and Powertrain Solutions divisions and intelligent Industry 4.0 to make production more efficient. Today, the Blaj plant is making significant increases in both the Mobility Solutions and the Industrial Technology sector, being an important player for Bosch. Bosch produces electronic components for the automotive sector in Blaj, in addition to industrial technology equipment.
The Bosch Group in Romania is a trusted partner of local schools in the dual education system project starting in 2013. More than 70 students are preparing this year for their careers as technicians in electromechanics and electronics at the Bosch plant in Blaj. The company collaborates locally with the "Timotei Cipariu" Technological High School in Blaj and the "Dorin Pavel" Technical College in Alba Iulia.
The practical work and activities of students in the Mechanical and Electrical Workshops in the Training Center are closely supervised by factory specialists. Thus, the students participating in the project have the opportunity to gather practical experience and information about serial production, both in the field of industrial technology and in the automotive industry.
Through the recruitment campaign "Let's be remarkable" Bosch invites prospective candidates to start a remarkable career in a competitive and international work environment. Bosch's Blaj production unit is currently recruiting quality engineers, maintenance engineers, manufacturing process engineers, procurement and logistics specialists, project managers, and candidates for the working student program.